Researchers find lead levels in pigeons mirror those of children in New York City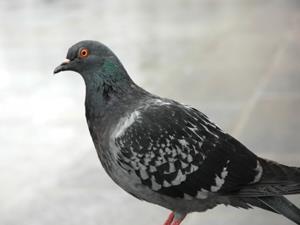 Urban pigeons can be used to monitor lead pollution, researchers in the US have found. Lead pollution still represents a significant health concern decades after the metal was banned from paint and gasoline, and the New York City Department of Health and Mental Hygiene perform regular screening of children in areas of the city with substantial lead contamination.
The research team examined blood samples collected from 825 sick or injured pigeons brought to the city's Wild Bird Fund rehabilitation centre from 2010 to 2015, and each was identified based on the zip code they came from. The team saw that the blood lead levels of these pigeons rose in the summer, and the same trend was found in the blood samples taken from the children. Zip codes with high lead levels in pigeons also had some of the highest rates of raised lead levels in children.
'This is a powerful example of how we can use pigeons to monitor the location and prevalence of pollutants,' said Rebecca Calisi, who conducted the study while at Barnard College in New York City. Now based at the University of California, Davis, Calisi wants to broaden this work to examine additional pollutants, like other heavy metals, pesticides and fire retardants, in Californian cities.