Ex-employee sues firm alleging job loss was the result of raising safety concerns that the company's chief executive didn't want to hear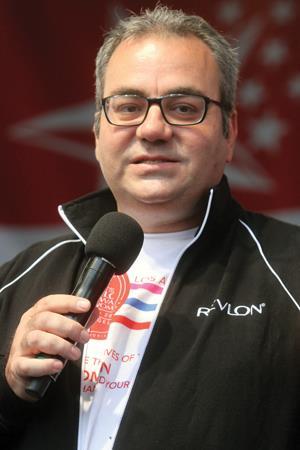 The former chief scientific officer of Revlon is suing the US cosmetics company, alleging that he was fired after raising safety concerns that its chief executive Lorenzo Delpani didn't want to hear. Alan Meyers' complaint also claims that Delpani discriminated against him for being Jewish.
Soon after Delpani was appointed as Revlon's chief executive in November 2013, Meyers says he raised concerns about safety and compliance problems at laboratories that Revlon had recently acquired from The Colomer Group. He claims that these warnings made Delpani angry.
In August 2013, Revlon announced the acquisition of Colomer, a beauty care company based in Spain whose chief executive at that time was Delpani. Colomer had five laboratories at the time of the acquisition in Spain, California, Florida, Mexico and Italy.
Meyers asserts in his lawsuit that he discovered problems with the Barcelona facilities almost immediately and was particularly concerned about the raw materials that Colomer used to manufacture products, which he believed did not satisfy regulatory and safety requirements. In addition, Meyers says he was concerned that Colomer's labs were not equipped to adequately test raw materials to satisfy Revlon's more rigorous standards.
He alleges that Colomer's Barcelona lab had no toxicologists and only basic safety testing. Moreover, Meyers notes that Colomer's operations group was responsible for raw materials, which he worried created a conflict of interest. 'An operations group generally focuses on costs for producing products and therefore looks to use the lowest cost materials regardless of quality or safety concerns,' the complaint explains.
Beyond the Colomer labs, Meyers said he also warned the firm about quality concerns related to Revlon's North Carolina manufacturing factory in May 2014. Specifically, he suggested to Delpani via email that the problems involved several factors, including insufficient equipment and personnel. In response, Meyers alleges that Delpani said he did not want such messages on the company's system and that he tried to get the message deleted from the firm's records.
The lawsuit says Delpani threatened to fire Meyers and demeaned him publicly on numerous occasions after he raised safety and compliance concerns. Meyers, who lost his job in December 2014, also accuses Delpani of repeatedly making inappropriate anti-American and anti-Semitic comments and engaging in unprofessional conduct.
Revlon issued a statement calling Meyers' legal action 'a completely meritless attack by a former employee who is trying to distract from his own failed performance with false, sensational and offensive allegations'. In the statement Revlon said that Meyers was fired for 'critical lapses in judgment' and failing to perform what was expected of him. The company added that it will 'aggressively fight these baseless claims and this frivolous action'.