$8.3bn deal gives Roche a leading position in pulmonary fibrosis
Roche is to acquire InterMune in a deal worth $8.3 billion (£5 billion). The agreed takeover values the US-based company nearly two-thirds higher than its market capitalisation before market chatter about a possible takeover started a couple of weeks earlier.
InterMune has one product on the market. Esbriet (pirfenidone) was approved in the EU in 2011, and in Canada a year later. It treats idiopathic pulmonary fibrosis (IPF), a progressive disease where scar tissue builds up in the lungs, making oxygen absorption difficult. Typically, patients survive just two or three years after diagnosis. Esbriet prevents synthesis of transforming growth factor beta (TGF-beta), involved in cell proliferation and differentiation, which plays an important role in fibrosis.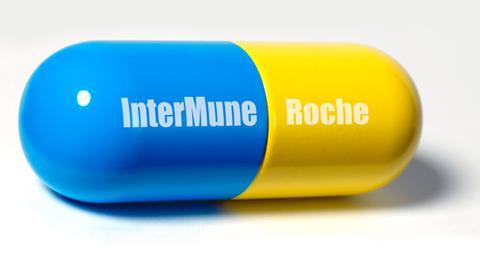 However, the drug has yet to gain US approval, with the Food and Drug Administration demanding an additional Phase III trial. This was completed and submitted in May, after which the drug was granted 'breakthrough therapy' designation. A decision on approval is expected in November. It is currently the only drug treatment for IPF, although Boehringer Ingelheim's Vargatef (nintedanib) has been submitted to the regulators. Analysts predict annual sales should top $1 billion by the end of the decade.
InterMune is carrying out Phase II trials on Esbriet for treating systemic sclerosis-related interstitial lung disease. It also has an Esbriet analogue and a lysophosphatidic acid receptor 1 (LPA-1) inhibitor in preclinical development for fibrosis-based diseases.
Roche is very active in the respiratory medicine field, making InterMune appear a good fit as a bolt-on acquisition. The existing Roche portfolio includes Xolair (omalizumab), a monoclonal antibody to treat allergic asthma, and the recombinant medicine Pulmozyme (dornase alfa) for cystic fibrosis. It has several other respiratory medicines in its pipeline, including the antibody lebrikizumab for severe asthma, which is in Phase III. It is also in an earlier stage of development for IPF.
'This acquisition will complement Roche's strengths in pulmonary therapy,' said Roche chief executive Severin Schwan in a statement. 'We look forward to welcoming InterMune employees into the Roche group and to making a difference for patients with idiopathic pulmonary fibrosis.' This does imply that Roche's strategy is to keep the InterMune research efforts intact, rather than simply swallowing up the product and dismantling the company's research operations.
The deal is Roche' fifth acquisition this year – and the largest since it bought up the remaining Genentech shares in 2009 for $47 billion. Since June, it has forked out $1.4 billion – potentially rising to almost $3 billion if various milestones are met – on breast cancer drug company Seragon; Santaris, which makes locked nucleic acids; diagnostics company Iquum; and Genia for its DNA sequencing platform.