More state funding will be available to European students with the hope that they will stay on and work in the country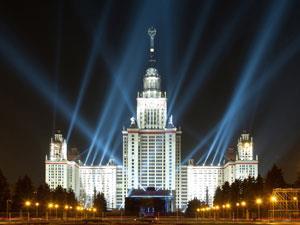 The Russian government is planning to up its quota for foreign students studying on state funded places at its universities by 50%. The new quota will be set at 15,000 overseas students.
Gulnara Krasnova, deputy president of Peoples' Friendship University of Russia, one of Russia's most prestigious universities, says that increasing the quota is part of ambitious state plans to attract foreign students by creating the right conditions to both study, and later work, in the country. According to Izvestia, one of Russia's leading business papers, there are currently more than 250,000 foreign students from 150 countries studying in Russian universities.
The Russian education ministry wants the number of foreign students to make up 6% of the student population by 2015, growing to 10% in 2018. Krasnova said that particular attention will be paid to European students as the Russian labour market is currently more promising for them than the EU, where unemployment is steadily growing. Russian unemployment rate is only 5.2%, compared with 5.4% in Germany, 7.8% in the UK, 11% in France and 12% in Italy.
Russian universities hope that two-year master's programmes – where one year is spent in Russia and one in their home country – will entice European students. This will give the student the opportunity to receive two diplomas – one from a Russian university and one from another.
Interest in foreign professionals, who graduated at local universities has, in recent years, increased among large Russian businesses. This is reflected by recent comments by Elvira Nabiylina, head of the Russian Central Bank, that Russia needs to attract highly skilled foreign graduates from Russian universities for management positions in state corporations, such as Rusnano and Rostekhnologii
Alena Arshinova, deputy chairman of the State Duma Committee on Education and one of the initiative's backers, says Russia needs more foreign students and, in particular, European students in domestic universities. 'There is a lot of potential. Europeans understand that we have a vast market and that many large foreign companies in recent years have opened their factories and branches within Russia,' Arshinova says. 'We are currently strengthening cooperation in this field, trying to abolish the visa regime.'
Potential problems that may hinder these plans include the poor reputation of Russian universities abroad and a lack of skilled English-speaking teaching staff.
Vladimir Filippov, president of the People's Friendship University, says that, so far, Russian universities have had serious problems attracting students from Europe and the US owing to poor studying, living and employment conditions. 'We attract a lot of students from the CIS [Commonwealth of Independent States] region, most of which speak Russian,' Filippov says. 'In the case of EU students, so far, the situation has been more complex … as we cannot give them the same level of life and socialisation they have at home.'
A final decision is expected in September and the new quota will come into force in 2014.