Hydrated titanium oxide stands out for its ability to selectively extract lithium from brine
Researchers in Japan have demonstrated the exceptional potential of a hydrated titanium oxide to extract lithium from salt lake brine collected from Salar de Uyuni in Bolivia, the world's largest salt flat.
Demand for lithium is growing alongside the development of lithium ion batteries. This strain on scarce supplies puts the cost and effectiveness of current methods for harvesting lithium into question.
'Lithium can be obtained from hard rocks, salt lakes and seawater,' explains Sonoda Akinari, leader of the team at National Institute of Advanced Industrial Science and Technology (AIST). In Japan, the only available source is seawater – an almost unlimited source. However, the low concentration of lithium in seawater compared to salt lakes makes producing lithium from seawater over ten times more expensive.
An evaporation process can produce lithium carbonate from brine, but this takes several months. One complication is that brine is a mixture of many different salts, including magnesium salts. Because lithium and magnesium cations have similar ionic properties, they are extremely difficult to separate from each other.
Ion exchange is a more efficient extraction method for sources with low concentrations of lithium. Ion-sieves allow smaller ions, such as lithium, through but block larger ions. When an ion-sieve is added to brine, the protons in the material are displaced by lithium ions. So the material adsorbs lithium ions, extracting them from the source solution.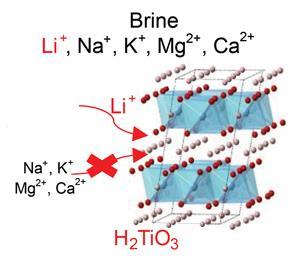 Manganese oxide-based ion-sieves have been used for lithium extraction. Fabio la Mantia, an expert in semiconductors and energy conversion at Ruhr University Bochum in Germany, finds Akinari's study interesting because it 'moves away from the classic manganates typically investigated for the selective recovery of lithium from brines containing mixed cations'.
Akinari explains that they decided to investigate titanium oxides because they are more stable than manganates during lithium desorption, so can be regenerated and reused over and over again. For desorption, the Li2TiO2 is treated with acid, reproducing H2TiO3. Because of its narrow exchange sites, the material has remarkable selectivity for lithium over the other cations found in brine, such as sodium, potassium, magnesium and calcium.
La Mantia asserts that 'the use of water from Salar de Uyuni gives a lot of strength to the study in terms of applicability.' Both La Mantia and Akinari will be interested to see if hydrated titanium oxide is still this effective in seawater, where the concentration of lithium is extremely low.