As one of the most unpredictable votes in living memory approaches little separates the main parties on research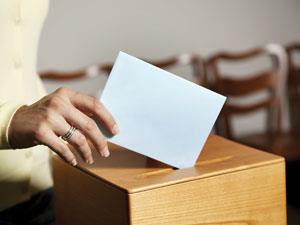 The economy, the NHS and immigration are key battlegrounds as the UK election approaches, but science and technology are rarely discussed. When asked, all three main parties have said that science and engineering, and research and innovation, are vital to build a strong and sustainable economy. But what are they really promising? And can they realise these promises when it appears unlikely that any one party will achieve a majority at the ballot box?
Of the three main parties, only the Liberal Democrats have committed to maintaining the ringfence around science funding, ensuring that the 'flat-cash' settlement agreed in the last comprehensive spending review will, at the very least, be maintained in line with inflation. The party will also press for a 15-year cross-party agreement to increase the budget by 3% above inflation, said MP Julian Huppert, a chemist and one of the few scientists in parliament.
If Labour is in charge after the election, the public will see big changes in science policy, according to Liam Byrne, the shadow universities and science minister. His party has said that it will introduce a long-term R&D funding framework and 'fix' university finances. 'And perhaps most important of all, what [the voters] won't see is north of £50 billion worth of cuts, which will hit the Department for Business, [Innovation and Skills],' Byrne added.
Campaign record
However, the Tories are proud of their record in government. 'I think what you've seen is science more strongly recognised as being at the heart of policymaking – backed by investment – than ever before,' said Greg Clark, the science and universities minister. He noted that the government has managed to protect investment in science and, more recently, that it has announced an increase in capital investment in science over the next few years. David Cameron, the prime minister, has said that ensuring a world-class science and engineering industry is part of the Conservative's 'long-term economic plan'.
'This general election is one of the most unpredictable we've had for decades,' says Matt Davies, the Royal Society of Chemistry's public affairs manager. 'Whoever [wins], it is vital that they recognise the importance of science to our national economy and that politicians of all parties work towards increasing government investment in R&D to at least the EU average of 0.7% of GDP. We already punch above our weight internationally, but we are at risk of falling behind.' Davies also notes that many of the important issues affecting the country have a science angle, from attracting the best scientists and students to tackling antimicrobial resistance and water pollution.
Naomi Weir, acting director of the UK's Campaign for Science and Engineering, echoes Davies sentiments saying that 'science and engineering are vital for the future of the UK'. She adds that the parties seem to recognise this but haven't committed to a long-term strategy to allow science to thrive in the UK.
Devil in the detail
Looking at the main parties' stances on research in more detail reveals many similarities. Cameron has said that his government has set aside £4.6 billion each year to 2015–16 for science and engineering infrastructure and research, as well as committing £5.9 billion of capital 'to support scientific distinction' up to 2021 – 'the longest investment pledge to science capital in decades'. The Conservative party have said that it also plans to build on its scheme to create new jobs and apprenticeships in science, technology, engineering and mathematics (Stem) and increase the number of women taking Stem degrees. The Tories added that more than 75,000 young people started apprenticeships in Stem subjects in 2013–14 – an increase of over 40% in four years.
However, Labour leader Ed Miliband has pointed out that the UK has consistently invested less in research than other advanced economies. Labour plans to implement a long-term funding framework, which will cover spending on innovation and applied research, as well as traditional science spending. On top of this, Labour wants to strengthen scientific advice at all levels of government – including looking at broadening the network of chief scientific advisers.
Labour has also promised 'a radical set of reforms' for education, including a promise to cut university tuition fees from £9000 to £6000. Other plans include excluding international students from immigration laws that discourage foreign students from studying in the UK.
Meanwhile, Liberal Democrat leader Nick Clegg has said that he wants to ensure that, by 2020, both capital and revenue spending have increased at least in line with inflation. Eventually, he wants to see innovation and research spending doubled.
His party will also ensure that immigration rules do not place arbitrary barriers in the way of skilled individuals coming to or remaining in the UK. Clegg has promised to reinstate post-study work visas for Stem graduates who can find graduate-level employment within six months of completing their degree.
Hung out to dry?
As this year's election is set to be one of the most unpredictable in living memory one or more of the smaller parties could be kingmaker should there be a hung parliament. The Scottish National Party (SNP) currently has 6 seats in the House of Commons but polls suggest it could win as many as 56. If included in any coalition, the SNP has also committed to protecting the cash ringfence of the science budget, as well as expanding investment in renewable energy in Scotland.
The Green Party, with just one MP presently, is unlikely to play a big part in any coalition government. It has, however, laid out its plans for research and backs doubling public spending over the next 10 years to reach 1% of GDP, with a focus on basic research – a commitment that, so far, no other party has made.
While, the UK Independence Party (Ukip) has made waves in the media, they are not expected to make a big breakthrough at this election. Ukip has pledged to abolish tuition fees for Stem degrees for students who work within the UK for five years after graduating. Ukip is best known for its desire for the UK to exit the EU, a policy that could damage the country's ability to participate in EU scientific programmes.