Sir James Black discovered the world's first blockbuster drug, was awarded a Nobel prize, and rewrote the rules of drug discovery
As if discovering beta-blockers and creating the world's first blockbuster drug wasn't enough, Sir James Whyte Black earned the 1988 Nobel prize for physiology and medicine and changed the way we search for new drugs.
Sadly, despite all his success he died at the age of 85 after a long illness. His medical discoveries are considered among the most important in the history of medicine, and the drugs he developed are among the most prescribed in the world.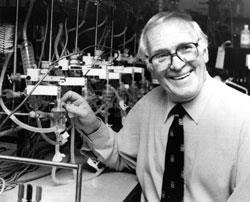 During the mid-20th century, discovering effective new medicines was a chancy business. Hundreds of compounds might be tested fruitlessly before an active molecule emerged - a process sometimes called 'chemical roulette'. Instead of shuffling the molecular pack until an ace emerged, Black sought a strategy for identifying potentially beneficial drugs in advance. Following his example, pharmacologists have now begun to rationally design molecules to regulate physiological processes.
Black was the son of a Scottish mining engineer, and having completed his medical degree at St Andrews University in Scotland in 1946, he committed himself to physiological research. In that same year he married fellow student Hilary Vaughan. In 1947 they moved to Singapore, where James lectured at King Edward VII College of Medicine. Returning to Britain in 1950, he taught physiology at Glasgow University Veterinary School and there began the investigations that led to his Nobel award.
It was already known that the hormone adrenaline stimulates our 'fight or flight' response to real - or imagined - danger, and in so doing raises our pulse rate. Raymond Ahlqvist showed that adrenaline did this by binding to specific receptor sites in heart cells. Black and his co-workers found molecules that blocked some of these receptors (the 'beta' ones). Potentially, this was good news for sufferers from angina or hypertension, for whom a racing pulse could be fatal.
Unable to develop his discovery within a university environment, Black moved in 1958 to ICI's pharmaceutical division. There he supervised the production and testing of propranolol, the first beta-blocker. It became one of the most valuable medications of the 20th century, though Black himself was not financially enriched by it.
Fearing he might drift into a managerial role at ICI, he moved in 1964 to a rival company - Smith, Kline and French - to develop cimetidine, an effective treatment for gastric ulcers, and the first blockbuster drug achieving annual sales of more than $1 billion. Like the beta-blockers, it works by binding on to (and shutting down) specific receptor sites. These particular sites attract histamine - a useful molecule in the right place, but potentially harmful to the stomach, where it can stimulate over-production of acid.
In 1973, with cimetidine almost ready for marketing, Black returned to academia as professor of pharmacology at University College London, UK. There - and subsequently at the Wellcome Research Laboratory and King's College London - he continued to seek reliable methods of modelling and predicting the physiological impact of molecules, with considerable success. He was knighted in 1981, admitted to the Order of Merit in 2000, and served as chancellor of the University of Dundee, Scotland, from 1992 to 2006.
Hilary Black died in 1986. In 1994 Sir James married Rona MacKie who survives him, as does Stephanie, the daughter of his first marriage.
Mike Sutton