Following an environmental review and a public consultation, work on the retrofit could begin in 2012
A site has been picked for the flagship US clean coal project, FutureGen, lending fresh momentum to an initiative with an eight-year history of stops and starts. The project represents the first US-based large-scale attempt to validate the oxy-coal process for carbon capture.
The FutureGen Alliance - a consortium of international power companies responsible for designing, building and operating the site - announced on 28 February that Morgan County, Illinois, US will host the carbon dioxide (CO2) storage site.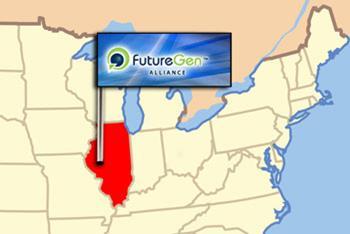 FutureGen has a long history, and the plan has been changed many times since its conception in 2003. Originally, it was to be a near zero emissions coal power plant near Mattoon in Coles County, Illinois, with the carbon produced at the plant stored underground nearby. But the Bush administration nixed the plan in January 2008, citing costs. In June 2009, the Department of Energy (DOE) under the Obama administration announced plans to revive it, albeit in a scaled-back form, and the new project was dubbed FutureGen 2.0. It has since evolved into retrofitting an existing but defunct 200 megawatt coal-fired power plant owned by St Louis-based power company Ameren and located in Meredosia in Morgan County, Illinois. Ameren and the other project partners will establish a pipeline network to transport and store the captured gas.
The carbon will be captured via an oxy-coal combustion process, in which the coal is burned in oxygen rather than air. This leads to a flue gas that is primarily CO2 and therefore well-suited to compression and storage. The oxy-fuel technology is less complex than other clean coal technologies and can be retrofitted to existing plants. In addition, it does not incorporate significant chemical processes.
FutureGen will now cost about $1.3 billion, of which $1 billion will come from the federal economic stimulus package enacted in February 2009. The rest of its support will depend on private energy companies.
High quality geology
The FutureGen Alliance says the Morgan County site is well suited to safe and secure long-term storage of CO2. Furthermore, its close proximity to the Meredosia power plant means pipeline routing will be simple and cheap.
'The overall reaction of our community has been absolutely positive,' says Terry Denison, president of the Jacksonville Regional Economic Development Corporation, which represented Morgan County. FutureGen is expected to generate more than 1000 construction jobs and 1000 service sector jobs in Morgan County and surrounding areas.
The CO2 will be injected into the Mt Simon formation, which contains a large permeable rock and salt water structure, a saline aquifer. The FutureGen Alliance says that the CO2 is not expected to react significantly with the aquifer and only a small amount will dissolve.
In the US, CO2 has been injected underground for enhanced oil recovery since the 1970s. However, critics suggest that independent verification is needed to ensure the CO2 will be contained in the long-term.
Scepticism and hurdles
The DOE will now conduct an environmental review and public consultation - construction will not begin for at least a year, and completion is not expected before 2016.
Tim Johnson, a Republican Representative for Illinois, says he is sceptical about whether the project will get off of the ground and concerned about future liability.
'They totally reworked the project, and there are still many hurdles to be cleared before this thing goes anywhere,' Johnson's spokesperson Phil Bloomer tells Chemistry World. 'They are rebuilding this shuttered plant to convert it to clean coal...piping these toxic byproducts many, many miles could raise a lot of liability concerns.'
Rebecca Trager, US correspondent for Research Europe