Recovery of cobalt-60 in Mexico greeted with relief and awkward questions on keeping radioactive materials safe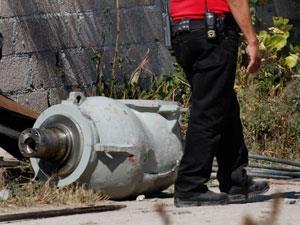 When a lorry carrying a powerful hospital radiotherapy machine was hijacked at a fuel station near Mexico City on 2 December authorities raced to find it. Governments around the world were alarmed by the theft and worried that if it fell into the hands of terrorists the material could be turned into a dirty bomb. The event also raised questions about the adequacy of international standards for protecting nuclear material as it was transported from place to place.
The vehicle in question was transporting a cobalt-60 radiotherapy source from a Tijuana hospital – where it had been used to treat cancer – to a radioactive waste storage centre. The driver and his assistant were attacked by armed men who stole the lorry.
The International Atomic Energy Agency (IAEA) issued a statement shortly after the theft saying that the cobalt-60 source was 'properly shielded', but 'extremely dangerous' if damaged or removed from the shielding.
The relief was palpable when Mexican officials announced on 5 December that they had located the radiotherapy source in a field close to where the truck was stolen. But anxieties quickly peaked when it was discovered that the cobalt-60 source had been removed from its protective shielding. Although there was no indication that the unit had been damaged or broken up, and no sign of contamination, police immediately secured a 500 metre area around the source.
The IAEA said the source, with an activity of 111 terabequerels, could cause permanent injury to anyone who handled it or came into contact with it for more than a few minutes. 'It would probably be fatal to be close to this amount of unshielded radioactive material for a period in the range of a few minutes to an hour,' the agency warned. Some officials suggested that the thieves were likely extremely ill or already dead, and hospitals in the area had been alerted to watch for symptoms of radiation poisoning, including vomiting and burns.
Delicate and complex
Meanwhile, Mexican officials announced on 6 December that they were finalising plans to safely recover the colbat-60. Mexico's nuclear regulator said the 'delicate and complex recovery operation' was being carefully planned to ensure minimal radiation exposure to those involved, and to prevent damage to the source. The IAEA reiterated that there was no evidence that the radioactive source itself was damaged, and no contamination had been found in nearby homes or in the town.
You can make transportation more secure, but you are never going to be as secure on a truck
Six men did go to a hospital near where the truck was discovered on 5 December with what appeared to be symptoms of radiation exposure. Reports indicate that the men, who ranged in age from 16 to 38 years old, were examined and found to have no life-threatening ailments. They were discharged and then immediately handed over to police. A judge promptly ordered the arrest of five of the suspects.
The thieves only had access to about 40g of cobalt-60, according to James O'Donnell, director of nuclear medicine at University Hospitals Case Medical Center, US. But it was clear from the beginning that they were after the lorry, not the cargo. O'Donnell characterises the incident as a 'one-time' event. 'It certainly doesn't point out any worldwide systemic problem that we need to fix,' he tells Chemistry World.
Nevertheless, O'Donnell calls the story a cautionary tale that highlights the need for new safeguards. 'We need procedures in place that will prevent this sort of material from falling into the wrong hands – either increase the security of the shipment, or at least the communication … so law enforcement can close in right away,' he says. O'Donnell notes that US regulations require universities and hospitals housing radionuclides, such as cobalt-60, to keep the material in a locked container, in a locked room, in a locked department.
Locked down
Andrew Karam, a US radiation safety consultant, agrees that security surrounding the cobalt-60 source in Mexico could have been better. 'When we transport sources like that here, they are in huge containers that are firmly bolted down to the truck itself – someone would need very specific tools to unbolt it,' says Karam. 'Boneheads, like these Mexican thieves, would not have been able to hurt themselves or anyone else.'
Experts agree that transportation of radioactive sources is always a weak point because the material isn't locked down. 'You can make transportation more secure, but you are never going to be as secure on a truck as opposed to in a locked room,' Karam says.
The Mexican incident is unlikely to happen in places like the US, UK or Japan because these countries have greater resources available to secure such radioactive materials during transit, as well as at hospitals and universities, according to Karam. However, O'Donnell suggests that even those safeguards would probably not be able to withstand an assault by trained terrorists.
Wealthier countries are largely moving away from these radioactive sources though, and are now opting for linear accelerators – particle accelerators that generate x-rays and high energy electrons for use in radiation therapy. Interestingly, the hospital in Mexico that was the source of the stolen cobalt-60 had apparently just switched to a linear accelerator, and that is why it was disposing of the old radiotherapy unit.
There are parallels that can be drawn between this latest episode in Mexico, and the Goiânia incident that occurred in Brazil in 1987. In that case, an old caesium-137 radiotherapy unit was stolen out of an abandoned radiotherapy institute by thieves who thought it might have some scrap value. The IAEA found that they had removed the radioactive source assembly from the shielded head of the machine and then accidentally ruptured the source capsule.
The material was subsequently handled by many people, resulting in four deaths. Overall, about 112,000 people were examined for radioactive contamination, and 249 were found to have received varying doses of radiation.