Japanese firm is remodelling its R&D efforts through collaboration and licensing deals, and selling off non-core businesses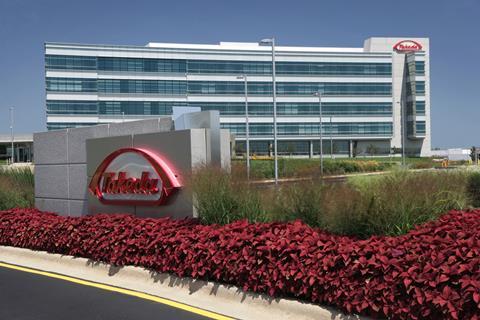 Japanese pharmaceutical giant Takeda is remodelling its R&D pipeline with a series of deals, refocusing and expanding its three core disease areas through partnerships, acquisitions and licensing agreements.
The company has formed more than 50 collaborations over the last 18 months with the aim of increasing its R&D capabilities, partnering with companies and institutions such as AstraZeneca, Samsung Bioepis and Stanford University to fund work towards the development of new drugs.
'The main focus of these collaborations has been early research within the company's core therapeutic areas: oncology, central nervous system (CNS) and gastroenterology,' says Edward Thomason, an analyst at Datamonitor Healthcare.
Thomason adds that in its Vision 2025 strategy, Takeda says it will focus on its prescription pharmaceutical operations, rather than its generic and over-the-counter businesses. Pharmaceutical R&D and resources will focus on oncology, gastroenterology and CNS therapy areas, along with vaccines, while the company's R&D activities will concentrate to within Japan and the US.
'In financial year 2016, through partnerships, Takeda added seven programs to its pipeline, though simultaneously the company chose to discontinue twelve programs,' Thomason says. '[We] anticipate Takeda will continue to rebuild its pipeline, through external collaborations, dealmaking and, if the opportunity in a key therapeutic area presents itself, mergers and acquisitions too.'
In oncology, Takeda's largest therapy area, the firm has been concentrating on expanding its commercial opportunities beyond its blockbuster anticancer drug Velcade (bortezomib), which will face generic competition from November this year.
In February, it acquired US oncology firm Ariad, and with it the leukaemia drug Iclusig (ponatinib) and lung cancer therapy Alunbrig (brigatinib), a move that will 'negate declining revenues while expanding Takeda's US oncology offering', says Thomason.
Recent partnerships with Immunogen, Mersana Therapeutics, Seattle Genetics and LegoChem Biosciences suggest that the company is focusing on developing antibody-drug conjugate (ADC) therapies, which allow drugs to distinguish between cancerous cells and healthy tissue more precisely by coupling them to monoclonal antibodies. Thomason expects Takeda will continue forming partnerships that will build on its existing ADC technology, with the hope of becoming a 'top 10 company in oncology'.
He notes that Takeda's busy dealmaking activity has to some extent been offset by selling off non-core businesses as part of a wider long-term strategy. Since November 2015, Takeda has split off both its generics – in a joint venture with Teva – and consumer healthcare businesses. It is also in the process of selling its respiratory business to AstraZeneca, and splitting off of its transformational (chemistry, formulation and manufacturing R&D activities) pharmaceutical business, its genitourinary R&D projects and its renal, metabolic and cardiovascular R&D projects to other companies.
Thomason says Takeda is selling businesses 'to create a more agile and streamlined business model focused on its core prescription pharmaceutical business'.