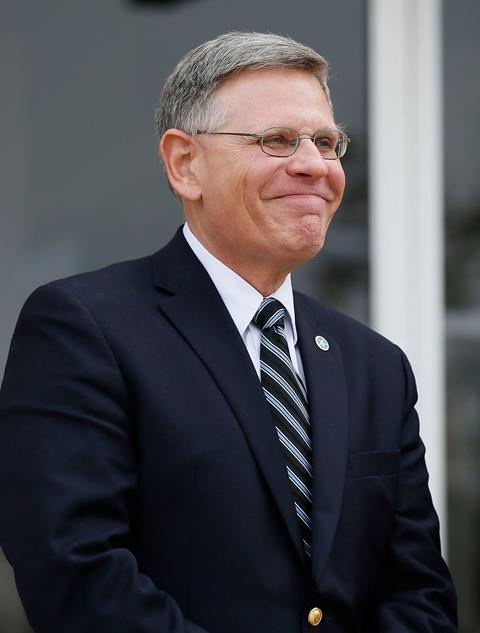 The US research community has been pleasantly surprised by the announcement that President Trump has finally selected a science adviser, after more than 550 days in office. The previous record for taking the longest to appoint a science adviser was held by George W Bush, who took around five months to fill the role. The American Association for the Advancement of Science (AAAS), which has been a vocal critic of the current administration, is applauding the nomination of atmospheric scientist Kelvin Droegemeier to head the White House Office of Science and Technology Policy (OSTP).
'Science and technology are embedded in almost every issue that the president deals with, and since 2016 we've urged the nomination of a respected scientist or engineer,' said AAAS's chief executive Rush Holt, a physicist and former Democratic congressman. 'Kelvin Droegemeier is such a scientist; his work cuts across many disciplines from meteorology to cybersecurity and he has demonstrated many years of public service at the interface of science and policy.'
The AAAS is not alone in its support of the nomination. Robin Tanamachi, an assistant professor at Purdue University in Indiana who specialises in severe weather and radar modelling, took to Twitter to express her approval.
I took synoptic meteorology from Dr. Droegemeier! Finally, a nomination I can support! https://t.co/naFEGs6H0Q

— Dr. Robin Tanamachi (@tornatrix) July 31, 2018
March for Science San Francisco also back the appointment of Droegemeier.
Meteorologist Kelvin Droegemeier will be nominated as the director of White House Office of Science and Technology Policy (OSTP).

This is a good decision for science backed policy-making. #StandUpForSciencehttps://t.co/uBMgRc1VYP

— March For Science SF (@ScienceMarchSF) August 1, 2018
'I am encouraged by the president's choice of Dr Kelvin Droegemeier, a distinguished weather and climate scientist, to be his science adviser and director of the office of science and technology policy,' says Neal Lane, a physicist who served as science adviser to former president Bill Clinton and previously as director of the US National Science Foundation (NSF). 'I have known and worked with Dr Droegemeier for many years and have great respect for his scientific accomplishments, administrative skills and knowledge of science policy and how Washington works.'
Lane says Trump has been 'very slow in filling this important position and many of the administration's actions have not suggested that science and engineering research and education are priorities'. He suggests that Droegemeier will 'face enormous challenges', but adds: 'I can't think of anyone better to take on this important and difficult job at this time. I fully support his confirmation for the position.'
The National Academy of Sciences president, Marcia McNutt, stated of Droegemeier's nomination: 'This is a key step toward giving science a seat at the table so decisions that shape our country are informed by the best available evidence. In particular, our nation is facing mounting costs from weather-related disasters, including more severe hurricanes, floods, droughts and forest fires. Having a distinguished atmospheric scientist advising the president is timely and a great choice.'
Currently vice president for research and professor of meteorology at the University of Oklahoma, Droegemeier has served on the National Science Board – the NSF's governing body – during the Bush and Obama administrations. He also chairs the science and technology council of the governor of Oklahoma, and currently serves as the state's cabinet secretary for science and technology.
Droegemeier's research has focused on thunderstorm dynamics and predictability. He is credited with creating the first atmospheric computer model capable of integrating Doppler radar and other data to predict high-impact local weather. He has also vocally advocated for federal funding of basic research.
Even Trump's political opponents in Congress are pleased with the selection of Droegemeier. 'We agree with the many statements already put out in support of him that say he is a serious scientist with the necessary experience to serve in this role,' says Kristen Kopshever, spokesperson for the Democrats on the House science, space and technology committee.
Droegemeier's nomination requires Senate approval, which is expected but not a given. Democrats could use it as an opportunity to protest Trump's position on climate change and threats to cut non-defence-related research government spending, according to Martin Giles at MIT Technology Review.
Update: Comments from Marcia McNutt and Neal Lane were added on 2 August 2018

Rebecca became the US Correspondent for Chemistry World in September 2014, based out of Washington, DC, after writing for the magazine on a freelance basis since 2007.
View full profile