Government wants universities to return to three-year degrees to annoyance of top institutes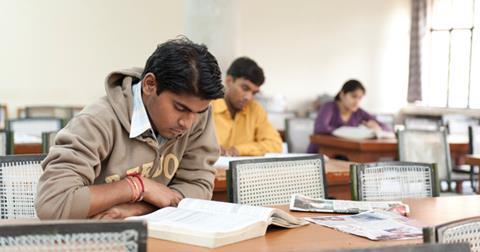 India's higher education watchdog, the University Grants Commission (UGC), is clamping down on four-year undergraduate courses in the country in a move that has affected many science degrees.
In June this year, Delhi University had to close its four-year undergraduate programme after the UGC intervened. The course was started last year in all streams, including science. In a written statement to parliament in July, human resource minister Smriti Irani noted that the UGC had ordered Delhi's four-year programme to be scrapped because it did not comply with the recommended education pathway.
Courses at the prestigious state-run Indian Institute of Science (IISc) and several private universities have come under scrutiny as well. At stake are IISc's four-year undergraduate programmes in physics, biology, chemistry, environmental science, materials and mathematics. However, according to media reports, the IISc has been allowed to retain its four-year programme, albeit with a few changes.
Most of the undergraduate science and humanities degrees in India are three years long. However, several academics have championed four-year undergraduate programmes. Starting four-year science degrees was one of the recommendations for improving science education in India by a 2008–9 panel set up by the three Indian science academies. Subsequently, many four-year science degrees were created at various institutes, including several Indian Institutes of Technology (IIT).
End of the road?
Several IIT four-year undergraduate programmes now face cancellation. For example, IIT Kanpur offers four-year undergraduate degrees in physics, mathematics, chemistry and economics. Dheeraj Sanghi, dean of academic affairs at IIT Kanpur, says: 'UGC sent us a generic notice in July, asking us to make sure our programmes are consistent with the education policy, not pointing to any particular course. We did not pay attention to it.'
The matter will still be examined by the IIT council, the governing body for the country's 16 IITs, in October. Several IIT spokespeople claim that the IITs fall outside of UGC's purview.
Meanwhile, the scientific community remains divided by the four-year undergraduate courses. Tapasya Srivastava, assistant professor at the department of genetics at Delhi, says: 'The merit of a four-year course, itself, may not be bad. However, running both three- and four-year programmes simultaneously in the country definitely would result in prejudice and confusion amongst the student fraternity.'
M M Ansari, a member of the UGC, says Delhi's three-year programmes were converted into four-year programmes without paying heed to the legal niceties. 'Moreover, there were other academic deficiencies in the preparation of course structure, which gave rise to political interference in the running of the course,' Ansari says.
On the other hand, Subhash Lakhotia, professor of zoology at Banaras Hindu University and a member of the panel that recommended four-year degrees, says shutting down Delhi's four-year courses and the possible closure of similar courses as 'very unfortunate'. 'It is surprising that the orders for rollback have been issued without any serious academic discussions and without providing any convincing arguments for such a step,' Lakhotia says.
Lakhotia argues that compared with the thee-year bachelors and two-year masters model, the four-year programme allows teachers to take a more holistic approach. '[The four-year degree] would permit a broad-based training, including in humanities or other fields of individual choice, of science graduates, which is essential for developing a true knowledge society,' he says.
Kambadur Muralidhar, former head at the department of zoology at Delhi, says a nationwide discussion about the country's education system is needed in light of the ongoing controversy. 'The fact is nobody is serious about higher education,' Muralidhar contends. 'A national debate is what is needed to discuss higher education as well as school education, employment avenues, and capacity-building in crucial areas of science and technology.'