Research agencies like the National Science Foundation are shuttered, with no grant reviews, meetings or funding disbursements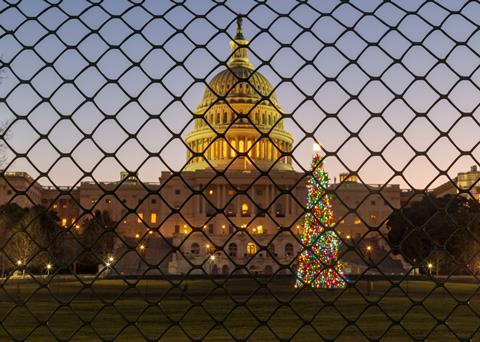 The partial US government shutdown that took effect at midnight on 21 December 2018 because lawmakers and the White House remain in a standoff over President Trump's demand for $5 billion in funding to build a wall along the southern border with Mexico, is already disrupting the country's scientific community.
For example, the American Association for the Advancement of Science is concerned about the research agencies that have been shuttered, like the National Science Foundation (NSF), not begin able to do their work. There is also worry about scientists not being able to access information they need.
'Any shutdown of the federal government can disrupt or delay research projects, lead to uncertainty over new research, and reduce researcher access to agency data and infrastructure,' said the AAAS' CEO Rush Holt, a former congressman and physicist. He urged Congress and Trump to work together to reach an agreement on fiscal year 2019 appropriations that allows continued operation of the currently closed research agencies, including the Environmental Protection Agency, the National Oceanic and Atmospheric Association, the US Department of Agriculture and Nasa.
Democrats will assume control of the House of Representatives on 3 January, and they are expected to approve a spending package that will end the shutdown. However, it is considered unlikely that the Republican-controlled Senate will approve, or even take up, that proposal.
If you are an NSF-funded investigator, there are no grant reviews being done right now, so that is certainly an issue,' Ben Corb, a spokesperson for the American Society of Biochemistry and Molecular Biology, tells Chemistry World. 'If you work for the agency, you are out of work and not being paid right now – it is a crummy situation for everybody, and we are all just kind of left waiting and watching.'
The president of the American Association of Public and Land-grant Universities, Peter McPherson, said a partial government shutdown has 'a real impact' on public universities and their ability to conduct vital research. 'We know from past shutdowns that agencies won't answer their phones or check their emails, and typically their websites go dark too,' he added. 'That leaves agency-funded scientists, including many at public research universities, in a lurch if they need to communicate with agency officials regarding an ongoing project.'
McPherson further warned about other consequences of the shutdown, such as that fact that all reviews of grant applications will cease for new research, and all other scheduled meetings or funding disbursements will not occur.
The president of the Association of American Universities, Mary Sue Coleman, said Washington has 'yet again has failed to govern'. Indeed, this is the third government shutdown in a year. 'Senseless displays of brinkmanship have serious consequences, including for university researchers who seek cures, innovation, and bolster national security on behalf of the American people,' she stated. 'We urge Congressional leaders and the administration to act responsibly and immediately fund our government.'

Rebecca became the US Correspondent for Chemistry World in September 2014, based out of Washington, DC, after writing for the magazine on a freelance basis since 2007.
View full profile