While the EU is zeroing in on neonicotinoids as a major cause of bee deaths, the US is looking elsewhere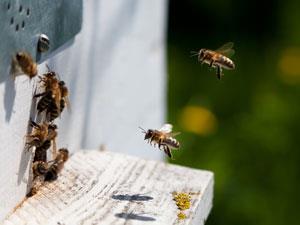 As the EU introduces a two-year moratorium on the use of neonicotinoid insecticides over concerns that they are decimating bee populations, the US government appears headed in a different direction.
A report released by the US Department of Agriculture (USDA) and Environmental Protection Agency (EPA) on 2 May has concluded that there are multiple factors contributing to honeybee decline, including parasites and disease, genetics, poor nutrition and pesticide exposure. 'It is not clear, based on current research, whether pesticide exposure is a major factor associated with US honeybee health declines in general, or specifically affects production of honey or delivery of pollination services,' the report concluded. However, the report also said it's clear that honeybee colonies can be 'severely harmed by exposure to high doses of insecticides' on crops or wild flowers close to arable land.
Late last month EU member states voted to ban three neonicotinoids for two years on crops that attract bees.
Jim Jones, the acting assistant administrator of the EPA's Office of Chemical Safety and Pollution Prevention, fielded questions about whether the US report's lack of emphasis on pesticides conflicts with developments in Europe, during a 2 May press conference. 'We at the EPA let science drive the outcome of our decision-making,' Jones said. 'There are non-trivial costs to society if we get this wrong.' He added that these pesticides provide meaningful benefits to the farmers who use them. 'As a general matter for human health and the environment, they are preferable to the alternatives.'
His remarks have, however, been met with scepticism from certain quarters. 'EPA is protecting the pesticide industry,' states Chensheng Lu, an environmental exposure researcher at Harvard University, US. 'It is unthinkable for EPA to come up with this statement that this pesticide is so important that we need to sacrifice honeybees.' Lu criticises the report for broadly discussing general bee mortality, and failing to specifically address colony collapse disorder. 'They put everything in the same pot so that people will get confused about what is causing this bee mortality.'
But May Berenbaum, head of the entomology department at the University of Illinois at Urbana-Champaign, US, says the report reflects the scientific literature regarding honeybee health in the US. 'There is no bright neon flashing sign that implicates specific pesticides,' she says. 'That said, pesticides are designed to kill insects and are, in the general scheme of things, not good for bees.'
Research just published by Utrecht University in the Netherlands has linked imidacloprid – one of the three neonicotinoids now partially banned in the EU – with a decline in the abundance of insects and other invertebrates in surface water.
On average, the researchers found three times fewer invertebrates in locations where the concentration of imidacloprid in the water exceeded the standard. 'Stricter standards alone are not enough,' said one of the study's authors, Jeroen van der Sluijs. 'This insecticide is so harmful and remains in the environment for so long that an international ban is definitely warranted.'