The chairman of the US Chemical Safety Board (CSB) has warned that hurricanes and high winds could 'significantly impact' the US bulk-power system and trigger the release of hazardous chemicals if facilities lose power. In a letter to the US Federal Energy Regulatory Commission (FERC) last month, CSB chair Steve Owens urges FERC's acting chairman Willie Phillips to move quickly to address these types of extreme weather events.
Owens notes that the CSB has in recent years investigated two serious chemical releases that were caused or made worse by loss of power during hurricanes.
The first occurred when hurricane Harvey caused significant flooding and knocked out power to the Arkema chemical plant in Crosby, Texas in 2017. The loss of power caused stored organic peroxides to ignite after refrigerators, generators and backup cooling methods failed. Ultimately, 200 residents were forced to evacuate and more than twenty first responders were hospitalised due to exposure to the resulting fumes.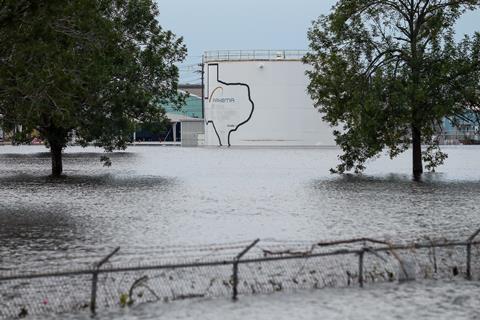 The second incident was caused by hurricane Laura in August 2020, whose extreme winds severely damaged buildings storing trichloroisocyanuric acid (TCCA) at the Lake Charles Bio-Lab facility in Westlake, Louisiana. Water coming into contact with the TCCA sparked a fire and released a large plume of hazardous gases, including chlorine, into the air. The cost of rebuilding the facility was estimated at $250 million (£200 million).
In his letter, Owens urges Phillips to add to recently agreed regulations that govern transmission system planning requirements for extreme weather events, which are slated to become effective on 21 September. Owens notes that despite earlier advice given to the FERC, its new rules don't address extreme weather events other than heat and cold – meaning that high winds and hurricanes are not included.
'These types of events may occur independently of extreme heat and cold events and may significantly impact the reliability of the bulk-power system, which, in turn, can result in the release of hazardous chemicals from a facility due to loss of power and put workers and the surrounding community at serious risk,' Owens cautions. He emphasises that it is important for FERC to address hurricanes and other such extreme weather events because bulk-power system reliability directly impacts chemical process safety and the safety of chemical facility workers and nearby residents.
Ingrid Montes, a chemistry professor at the University of Puerto Rico (UPR), agrees with the CSB's stance. 'I firmly believe that in any kind of potential emergency caused by weather, everyone is responsible to help to raise the awareness,' she says. 'It is important to let people know about the consequences and also encourage them to revise and activate all emergency plans in advance and to be prepared for the worst.'
Montes witnessed first hand the impact on science infrastructure when many of UPR's facilities were destroyed by hurricane Maria in September 2017. She notes that the university had not anticipated how the hurricane would affect the institution's electric power and communications. 'So the time to do any communication is not after… it is certainly in advance,' she adds.

Rebecca became the US Correspondent for Chemistry World in September 2014, based out of Washington, DC, after writing for the magazine on a freelance basis since 2007.
View full profile