Sandoz's copy of arthritis drug Enbrel won't be available in the US until 2029, 30 years after it was first marketed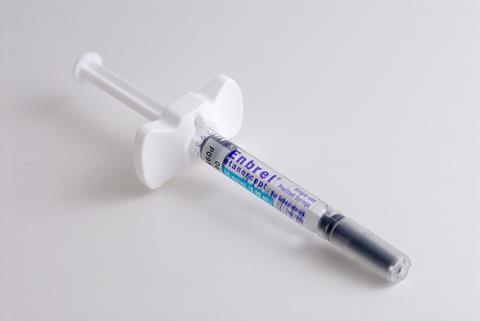 The US supreme court has rejected a high-profile bid by Novartis' generics arm Sandoz to challenge two of Amgen's key patents for its blockbuster arthritis treatment Enbrel (etanercept). The decision means that Sandoz cannot launch its generic etanercept biosimilar in the US until 2029. In Europe, Sandoz has had its product, Erelzi, on the market since 2017.
Amgen has reportedly filed 68 patent applications related to Enbrel, and Sandoz has been challenging them unsuccessfully since at least 2019. Amgen got the rights to etanercept when it bought Seattle, US-based Immunex in for $16 billion in 2009 (around £10 billion at the time), and Enbrel was first approved in the US 1998 to treat a type of juvenile arthritis. By the time Sandoz's biosimilar gets to market, Amgen will have enjoyed more than three decades' exclusivity.
While almost 60 biosimilars of various products have been approved and marketed in Europe, fewer than 30 have been approved in the US, with only nine of those actually on the market, owing to litigation delays.

Rebecca became the US Correspondent for Chemistry World in September 2014, based out of Washington, DC, after writing for the magazine on a freelance basis since 2007.
View full profile