T-Vec is the first approved oncolytic virus, but its limited treatment scope means it is unlikely to become a blockbuster
The first virus therapy to target cancer has been approved in the US. Its main target will be melanoma, the most aggressive form of skin cancer. European approval is likely to follow before the end of the year, after the European Medicines Agency's advisory panel recommended it for approval in October.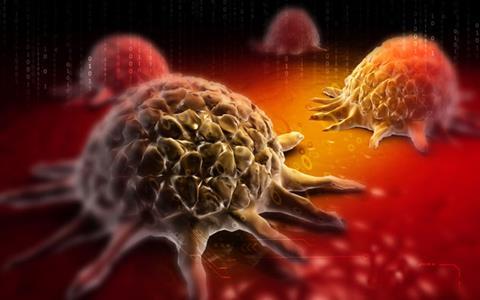 Imlygic (talimogene laherparepvec, or T-Vec) is a genetically modified herpes simplex virus which targets melanoma lesions that cannot be removed completely by surgery. It is injected directly into the lesions, where it replicates inside cancer cells and produces an immune-boosting protein called GM-CSF (granulocyte-macrophage colony-stimulating factor). The cancer cells are eventually overwhelmed, rupture and die, releasing the new virus particles, the GM-CSF protein, and antigens derived from the tumour. Its developers say that together these may encourage the immune system to fight the tumour, but the exact mechanism of action is still under investigation.
In clinical trials, skin and lymph node lesions shrank in 16% of patients receiving Imlygic, with results persisting for at least six months; as compared to 2% receiving in patients receiving recombinant GM-CSF (sargramostim). However, Imlygic does not improve overall survival, nor does it have any effect on melanoma that has spread to the brain, bone, liver, lungs or other internal organs.
Imlygic is manufactured by BioVex, a US-based subsidiary of Amgen. The drug represents an important new option for patients with this aggressive and complex disease, says Sean Harper, executive vice-president of R&D at Amgen, who regards immunotherapy as 'an exciting area for cancer research'. Amgen anticipates the average cost of therapy to be around $65,000.
T-Vec is also being clinically tested in combination with other immunotherapy drugs. Amgen is collaborating with other companies, such as with Merck on studies to treat melanoma, and head and neck cancer, and with Roche to study the effect on breast and colon cancers.
With relatively small numbers of patients likely to benefit from the drug as it stands, Thomson Reuters Cortellis forecasts peak sales for Amgen of $388 million by 2020. Eric Schmidt, senior research analyst in the healthcare sector at US firm Cowen and Company, believes that Imlygic is 'a very small drug' for Amgen, so modest, in fact, that his group has not calculated specific sales estimates. 'Its price is actually quite a bit lower than other first-in-class drugs and immunotherapies, which tend to be in excess of $100,000,' he adds.