The conviction of Elizabeth Holmes, the former chief executive and founder of failed blood-testing startup Theranos, on four charges of defrauding investors out of millions of dollars has had reverberations for analytical chemistry, the field of blood monitoring and beyond.
On 3 January, a jury found Holmes guilty of three counts of wire fraud and one count of conspiracy to commit wire fraud for misrepresenting her company's blood monitoring devices. She faces up to 65 years in prison but will likely be sentenced to between 15 and 20 years, estimates Ken White, a criminal defence attorney in Los Angeles.
'Theranos seemed to me and a lot of other scientists just to be a clear-cut case of fraud, top to bottom,' says Derek Lowe, a pharmaceutical chemist who writes the popular blog In the Pipeline on drug discovery and the pharma industry. 'One of the things this did do was totally mess up this area of innovation in analytical chemistry, because it casts doubt on being able to do microfluidics,' he tells Chemistry World.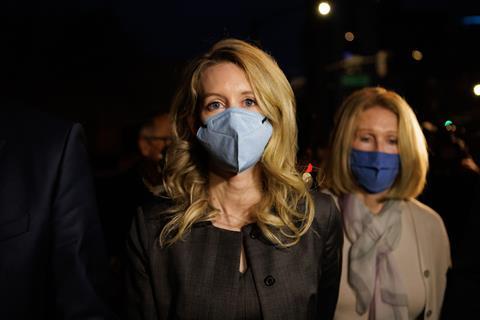 The verdict, which came after a four-month jury trial in California, was welcomed by US Attorney Stephanie Hinds. 'The jurors in this 15-week trial navigated a complex case amid a pandemic and scheduling obstacles,' Hinds said. 'The guilty verdicts in this case reflect Ms Holmes' culpability in this large-scale investor fraud, and she must now face sentencing for her crimes.'
Aside from the convictions, Holmes was found not guilty on four other charges related to intentionally deceiving patients, and the jury could not agree on three other fraud charges.
Press releases and hype
Ellen Kreitzberg, a Santa Clara University law professor who attended the trial, says the jury's decision makes sense because the not guilty verdicts all involve the intent to defraud patients, and the evidence with respect to investors was certainly stronger than it was with patients.
'There is a sense that when she stared this endeavour, she was a believer and wanted to revolutionise healthcare and genuinely was committed to that goal,' Kreitzberg states. 'If jurors believed that, they are not likely to believe she intended to defraud patients.'
Holmes was studying chemical engineering at Stanford University before she dropped out and founded Theranos in Silicon Valley when she was 19 years old. She claimed to have invented a technology capable of detecting hundreds of diseases with just a drop or so of blood.
People are improving this technology, but that work had a bunch of dirt thrown over it by Theranos
Theranos' board members and investors included public figures like former US Secretary of State Henry Kissinger, retired four-star US general and former Defense Secretary James Mattis, media mogul Rupert Murdoch and ex-US Secretary of State George Shultz. Holmes and Theranos became media darlings, despite the company's technology never actually providing accurate results.
'They were saying they were able to do about 200 tests for disease markers and things like glucose on one drop of blood, as well as searching for different proteins – it was nonsense,' Lowe recalls. 'A lot of these tests are totally different from each other. How are you going to do all these things simultaneously, all in a sample of blood that was probably too small to run one of those tests,' he asks.
Theranos had scientists working at the company, but its board had no experts in the field of blood monitoring. 'The scientists were in a completely untenable situation – they were being forced to try to make these promises come through after they were already promised,' Lowe says. 'They were well past the limits of technology and were in an absolutely impossible situation.'
The only apparent evidence for Theranos' technology was that its leadership said it worked. 'They never published any scientific papers on their work, and they never made technical presentations at any conferences – it was all press releases and hype,' Lowe states. 'You still can't do 200 of these tests on a single drop of blood.' [Addendum 6 January 2022: Derek Lowe has since discovered that Holmes published a paper in 2017 (DOI: 10.1002/btm2.10084).]
Doubt and confusion remain
Indeed, in October 2016 Theranos voided two years of blood test results, and the company closed its clinical labs and 'Wellness Centres' as its fortunes continued sliding from its peak valuation of around $9 billion. At the time, Steve Brozak, president of the independent US research and investment bank WBB Securities, said that Theranos' inability to live up to its bold vision had harmed the diagnostics sector and made things more difficult for other companies in that arena.
Two years later, Holmes and Theranos settled 'massive fraud' charges with the US Securities and Exchange Commission, although neither admitted to wrongdoing. In March 2018, Holmes herself agreed to pay a $500,000 penalty, be barred from serving as an officer or director of a public company for 10 years, return the remaining 18.9 million shares that she obtained during the fraud, and relinquish her voting control of Theranos. The company was eventually dissolved in September 2018.
'People are improving this technology, but that work had a bunch of dirt thrown over it by Theranos,' Lowe says. He states that Holmes' conviction certainly doesn't hurt the field, and it shows that a court of law has found these claims to be false, and the people who made them are being punished. However, Lowe notes that 'it doesn't take away the doubt and confusion thrown over the analytical chemists and biologists trying to improve blood monitoring.'
Scientists in this area will have credibility if they publish their work in reputable journals, Lowe advises. 'If you do that you are far away from being in Theranos territory.'
There is a divide between Silicon Valley and the biopharmaceutical industry. 'In Silicon Valley, people are used to working with hardware and software, which are created out of thin air and gives them a strange idea of their capabilities and what is possible,' Lowe says. 'For example, I am holding this software that didn't exist a year ago because we worked hard and dreamed big.' But a biochemical test does not respond in the same way.
'This "fake it until you make it" hype machine does sometimes work in Silicon Valley, where people can make a big push and magically catch up at the last second, but if you try to do that with human tissues and biomolecules it doesn't work.' Lowe states. 'You can't just wave your hands and pretend that you've solved a problem.'
Young scientists as whistleblowers
The two big whistleblowers at Theranos were junior scientists. One of these individuals was Tyler Shultz, grandson of George Shultz, who worked in Theranos' lab from 2013 to 2014 when in his twenties. The other whistleblower was Erika Cheung, another young lab assistant at that time.
'This has been a long chapter of my life. I am happy that justice has been served and that this saga is finally in my rearview mirror,' Tyler Shultz tweeted after the Holmes verdict. He said he is proud of his and Cheung's impact and hopes to inspire other young professionals to 'hold their leaders accountable.'
One lesson from Theranos is for companies to not promise things they can't deliver. 'No scientist would have come into a senior level in that company because they would have realised the emperor had no clothes,' Lowe says.
Kreitzberg agrees that Theranos and its founder's fate should serve as a warning for chief executives to be mindful about how they represent their technologies to investors. She says investors are now on notice to exercise their due diligence.
'The investors knew that they were taking a risk, but the point where her behaviour became criminal is when she started telling potential investors lies about what her machines were currently doing and what actual contracts and partnerships she already had,' Kreitzberg says. She points out that most of the investors typically involved in the healthcare sector stayed away from Theranos. 'Several prominent investors chose not to invest with Theranos because the answers they received from Holmes were too evasive or not forthcoming,' Kreitzberg continues. 'The defrauded investors jumped in in large part because they believed the lies that she told them.'
Holmes' sentencing date has not been set. The now 37-year-old was first indicted in 2018 alongside her ex-boyfriend Ramesh 'Sunny' Balwani, who formerly served as Theranos' chief operating officer. Her verdict does not bode well for Balwani, whose trial is slated for next month.

Rebecca became the US Correspondent for Chemistry World in September 2014, based out of Washington, DC, after writing for the magazine on a freelance basis since 2007.
View full profile