Research community welcomes meteorologist as Trump's new science adviser, after two years without one, but the office he will run is currently closed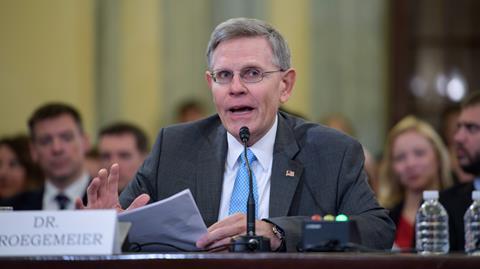 President Trump finally has a science adviser – one that the US research community enthusiastically endorses. The Senate's long-awaited confirmation of atmospheric scientist Kelvin Droegemeier to head the White House Office of Science and Technology Policy (OSTP) came on the evening of 2 January. The post has remained vacant since Trump became president nearly two years ago. However, Droegemeier's celebrated installation at OSTP comes during a partial government shutdown that has shuttered the office, along with several research agencies like the National Science Foundation (NSF).
Timing aside, groups like the American Association for the Advancement of Science (AAAS) and the Association of Public and Land-grant Universities (APLU) welcomed the news. They applauded that Droegemeier served for 12 years on the National Science Board, the NSF's governing body, and has spent decades as a researcher at the University of Oklahoma and, most recently, as the school's vice president for research. Trump nominated him to head the OSTP at the end of July, after having served more than 550 days in office. That beat the previous longest presidential record of five months to appoint a science advisor, set by George W Bush.
The Senate Commerce Committee approved Droegemeier's nomination by voice vote back in September, but then things stalled.
Rush Holt, a former congressman and physicist who is AAAS' CEO, suggested that Droegemeier's many years of public service at the interface of science and policy will be an asset. 'I hope the incoming OSTP director will be quickly integrated into the administration's decision-making on the many areas that intersect with science and technology, including infectious disease, infrastructure, environmental protection and energy security,' Holt stated.
APLU said it is 'very pleased' about Droegemeier's confirmation. 'Science should always be represented at the policymaking table,' the organisation stated. The Science Coalition, a nonprofit made up of more than 50 leading American public and private research universities, called Droegemeier 'a strong voice for science and federal research funding', and said he is 'ideally suited to oversee continued growth of essential federal research programmes.'
Meanwhile, first daughter and White House adviser Ivanka Trump indicated what Droegemeier's new job might involve: 'I look forward to working together to secure American dominance in the industries of the future!' she said in a congratulatory tweet.
Congratulations Kelvin Droegemeier on your Senate confirmation to be the Director of the White House Office of Science & Technology Policy.

I look forward to working together to secure American dominance in the industries of the future! #AI #QIS #Robotics #5G

— Ivanka Trump (@IvankaTrump) January 3, 2019

Senior US correspondent, Chemistry World