The theory was sound, but litmus-inspired baby clothes just didn't catch on
Over the course of my working life, I have been both a fairly serious research chemist, and the physical sciences consultant for Yorkshire Television (YTV) – a role that greatly expanded my range of silly ideas. Once, I had the idea of colour-changing baby clothes that you could buy before the baby was born. If the child was a girl, you would dip the clothes in one liquid and they would go pink; if it was a boy you would dip them in another and they would go blue. YTV liked the idea of making some for real. The presenter, Magnus Pyke, could show the camera how they worked. I agreed to make some, and YTV sent me some beautiful baby clothes, elegant garments all knitted in white wool. My idea was to dye them with litmus, so that an acid would turn them pink and an alkali blue.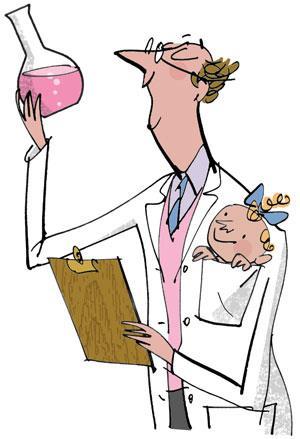 I soon hit trouble. You can't just dip white wool in litmus solution; it easily washes out, and – worse – colours the acid or alkali. A TV camera would instantly see that something was wrong. You need some chemical mordant to fix the colour to the fabric, but the colour must still be sensitive to pH. Many of the mordants I tried held the dye, but stopped it changing colour. I wanted some chemistry like that of litmus paper, which holds the litmus firmly on the paper but still allows it to change colour. Over the telephone I tried to extract the secret from Johnsons of Hendon, one of the makers of commercial litmus paper. I failed, so in the end I just had to play around.
I finally settled on ferrous ammonium sulfate. It was not an ideal mordant, but I could make an acidic solution of litmus dye, add a solution of the ferrous salt and dip the baby clothes in. That solution was a splendid pink, and the clothes took up the colour. When I added sodium hydroxide to make the whole thing alkaline, it went blue. The ferrous ammonium sulfate was precipitated in the wool as ferrous hydroxide. As it came out of solution, it took up enough litmus to colour the baby clothes blue too, so when I washed away the chemical solution, I had blue-dyed baby clothes. Even better, when I put them in an acid solution they turned back to pink. I was able to telephone YTV and tell them that the clothes were ready for the camera! We set up the item, and made a slot for it in the next show. I took everything down to the YTV studios at Leeds and helped to perfect the whole scheme.
It was a great success. Pyke was able to show the clothes to a wide audience, and demonstrate how they worked. Even more amazing, many of the viewers took my chemistry seriously, and there was suddenly a nationwide demand for these colour-changing clothes!
Sadly, the whole scheme had a crucial chemical flaw. The urea in babies' urine is broken down by bacteria to generate ammonia – an alkali – so a female baby wearing a pink outfit would find parts of it going blue. I still like the idea of a garment that can be bought first, and later turned one of a number of colours. However, the change would have to be permanent, and its chemistry continues to elude me. That nationwide demand is still unsatisfied!