Finding a model for reforming science culture in the Savage x Fenty fashion show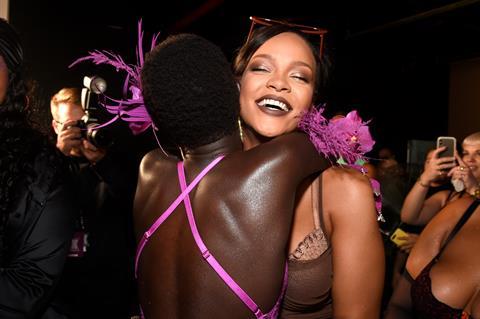 Rihanna has been in the news a lot lately. The Barbados-born music icon and entrepreneur had the media's attention as the world's wealthiest female musician, even before welcoming her first child and headlining the 2023 Super Bowl halftime show. But it's RiRi's foray into fashion that most caught my attention, as it made me think more provocatively about diversity, equity and inclusion in science.
The approach Rihanna uses in her Savage x Fenty lingerie line is what we need in science to move past the perfunctory 'Women, minorities, and persons with disabilities are encouraged to apply.' Unfortunately, some diversity and inclusion efforts still, albeit inadvertently, treat women as if these descriptors are mutually exclusive.
In 2018, women reportedly earned 47.7% of all bachelor's degrees awarded in chemistry in the US compared to their population of 49.4%. At first glance, that looks a lot like parity; however, a closer look reveals that only 11% of the degrees were earned by women from underrepresented racial and ethnic groups, who comprise 17.7% of the population. At the graduate level, the underrepresentation of women of colour is further exacerbated; they received just 3.7% of doctorates earned by US citizens and permanent residents in the physical sciences. This stark underrepresentation continues, despite warnings cast three decades before our favourite bad girl would sign her first record deal.
This persisting gap can only be explained using an intersectional approach that acknowledges that women of colour employed in science and engineering are more likely to be divorced, separated or never married, slightly more likely to have children in the household, and more likely to be unemployed or underemployed. Women of colour are also more likely to experience health disparities or care for a family member. As a Black/Creole and Asian, remarried mother of a six-year-old and only child to ageing parents, I can attest to the challenges this brings forth. Nothing in my excellent doctoral or postdoctoral training prepared me to simultaneously manage a stressful full-time job, high-risk pregnancy at 'advanced maternal age' (which was traded for an awfully cute infant and pumping breastmilk during the workday), and eldercare post-stroke. And, by the way, the maternal mortality rate for black women is triple that of white women in the US.
In a different industry, Rihanna made a way forward. One evening during a time in which I felt invisible and unwelcome in science, I succumbed to the hype of Rihanna's Savage x Fenty advertising and found myself watching a dynamic performance that I can only describe as a cross between a runway exhibition, music concert and human art installation. What was most impactful for me was seeing the range of models in the show: voluptuous to svelte, albino to dark-skinned, young to old, disabled to non-disabled, feminine to androgynous to masculine. And these various individuals didn't seem to have been contorted to fit into pre-cast clothes. No, the clothes seemed designed to accentuate the most beautiful parts of these bodies! I even purchased some items! Why would I do that when I'd never peeped at a Victoria's Secret Show? I bought the clothes because I could see myself in the clothes.
We must look at the toxic cultures into which we expect people to contort themselves
Rihanna built a space for all. Only by applying this inclusive and intersectional approach can we expect members of historically underrepresented groups to feel valued in science. The intersectional framework acknowledges that race, gender, class, sexuality and other dimensions of diversity are interlocking systems of disadvantage or discrimination in which some groups have power over others.1 For example, women and minorities are often stereotyped as being less capable at math. How much more so is a woman who is a minority?
With this critical understanding, we can begin to deconstruct the increased hypervisibility and tokenism, isolation and exclusion that female chemists of colour (and others) experience. We can also acknowledge the differences in traditional gender-based roles that are unique to particular cultures. Women of colour also have fewer role models and fewer 'like' peers to help envision themselves in science. These unique challenges at the intersection of gender and race and ethnicity in science need to be accounted for when trying to increase recruitment, change the culture of our educational systems, warm the still chilly climate, and implement further reform policies.
So, what can we do with this lesson from Rihanna? She shows us that if we want everyone with the potential to contribute to our most pressing scientific challenges to join our ranks, we must look more carefully at the existing institutions and toxic cultures into which we expect people to contort themselves. Even straight white men report that they curate their identity to fit in the workplace. Our systems should be redesigned to fit the wide diversity of people with the creativity, intelligence and passion for science. This will require interdisciplinary practices and increased awareness of contemporary issues such as gender identity, pronoun use, accessiblity and usability, sexual orientation, mental health and wellness, and sexual harassment.
Individually, we can each bravely challenge the norms of our profession and disciplinary culture through open-mindedness about what we don't know about each other's lived experiences. Two of the most meaningful experiences I've had were when a female colleague shared, 'I don't know what it's like to be the only woman of colour here,' and when my PhD advisor gave me advice, then added, 'I'm a white guy. I don't know what it's like to want to return to an HBCU [Historically Black College and University] to teach, but I know it's important to you.' While so many others ignored such a core part of my identity, in those moments, I felt seen and, in turn, valued.
This can be accomplished by bringing your authentic self to the lab in a way that encourages others to do the same, thus creating a space where all can see themselves and be seen in the fullness of their identity and potential to contribute. We shouldn't just accept and tolerate our differences but parade and celebrate those differences through true inclusion – just like Rihanna models it.