Fluorine in medicinal chemistry and chemical biology
Fluorine in medicinal chemistry and chemical biology
Iwao Ojima (ed)
Weinheim, Germany: Wiley-VCH 2009 | 640pp | ?120.00 (HB)
ISBN 9781405167208
Reviewed by David O'Hagan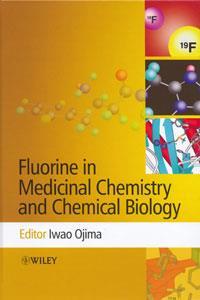 Organic fluorine chemistry continues to make a major contribution to drug discovery and fluorinated compounds constitute 15-20 per cent of all new chemical entities licensed each year, and they are finding increasing utility as interrogation and diagnostic tools in chemical biology.
This book reflects that progression and offers a contemporary briefing on developments and trends in the area. The incorporation and impact of selectively fluorinated amino acids into peptides, the application of the fluorine-18 isotope for positron emission tomography and the use of fluorine-19 in NMR and MRI imaging are all covered well, as are novel synthesis methods. Individual chapters outline particular case studies of medicinal chemistry relevance including prostanoids, CNS drugs, taxoids, anti-malarials and nucleosides.
The book will appeal to the specialist organofluorine chemist, but its real value will be in enriching the non-specialist community on issues relating to fluorine. It should be an essential purchase for medicinal chemistry and pharmaceutical research laboratories, as it provides an excellent overview of the range and role of fluorine, as well as some rationale as to how fluorine can be expected to behave in a given situation.
For the teacher there are many examples and there is an excellent opening chapter outlining the basic aspects of fluorine in chemistry and biology. Additionally the book closes with a valuable listing of all of the approved US Food and Drug Administration drugs for human (134 in total) and veterinary (40 in total) use, with structures, trade names and modes of action listed.
This book is wonderfully produced with a high-quality feel and excellent graphics including a central section of glossy coloured plates. At over 600 pages and 19 chapters, it is a healthy tome, but it is very readable and the range of authors/experts is wide, resulting in a comprehensive and authoritative volume.