Brian Clegg
Icon Books
2015 | 208pp | £6.99
ISBN 9781848319288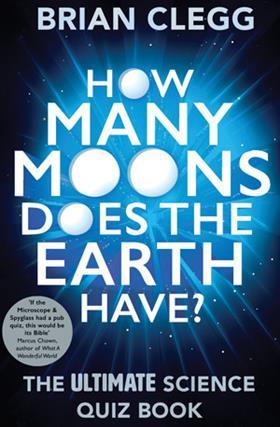 Have you ever found yourself at your local pub quiz, stumped by sports and puzzled by pop music? Do your pleas for more science questions get ignored? Is the one time you volunteered to write a quiz round on the periodic table infamous in pub history? Then this may be the book for you.
In a break from his normal format, Brian Clegg presents two pub quizzes in How many moons does the Earth have? The ultimate science quiz book. Of course, these are not normal quizzes – they're all about science. Clegg provides the questions we all want answers to, such as what happens if you fall into a black hole; are E numbers present in blueberries; and where is the best place to aim in a penalty shootout – England, take note. This book even tackles popular fantasy as it explains, to my great relief, why the giant spiders of J R R Tolkien's Middle Earth could never exist.
To use the questions for a real life pub quiz would involve a lot of enthusiasm. You need to scribble down some calculations to be in with any chance of getting some points, especially in the maths and physics rounds. There are also some extremely frustrating trick questions, but the overall experience is a pleasant one.
The topics are varied and relevant, and answers are explained in a way that is clear and avoids unnecessary jargon. Complex concepts are covered without assuming a great deal of background knowledge – although in some places I'd have liked a little more detail. To escape the restrictions of the one page answer format, Clegg has also provided a further reading list for the more curious reader – admittedly including many of his own works. But with such a comprehensive back catalogue of excellent popular science books, who can blame him?
Whether you're a quiz aficionado or prefer to sit down to read by yourself, this book is great to dip in and out of and maybe you'll learn a little something along the way.
PS: The answer to the question in the book's title is indeed one.