Edited by Irenee Daly and Aoife Brophy Haney
The Professional and Higher Partnership
2014 | 134pp | £20
ISBN 9781907076633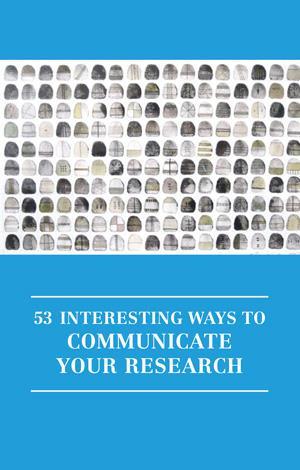 Never judge a book by its cover. Unless, that is, it professes to divulge interesting communication methods.
I therefore got off to an unhappy start with 53 interesting ways to communicate your research – its front cover is unforgivable. A low-resolution image is stretched across the cover to the point of pixelation. I can't help but feel the publishers might have benefited from reading their own book, which tells us on p86 that 'all images need a resolution high enough not to become pixelated'. This is a mistake I don't think any of the contributing authors (just over 40 in total) would have made.
My complaints aside, this book belongs on the shelf of every lab or office. It is relevant from the undergraduate bench to the professorial chair. It's unlikely that you'll ever read it cover to cover, but the editors acknowledge this. It's a stepping stone for any form of research communication. Whenever we are ready to share our work, it is important to not only to ask how and why we are communicating our work, but also why people will listen. This book helps you plan out any form of communication by making sure you keep the focus on your message and the audience.
Each concise chapter tackles a different activity such as networking, presenting posters, working with the media and even stand-up comedy, covering the main points and reminding the reader of important considerations.
This book serves not only as a reminder of good practice, but as an inspiration for new ventures. It is the step back from our work we all need before dissemination, and even the quickest flick through will reveal less-trodden communication paths – almost daring you to have a go.
With so many authors, there are slight style changes throughout but the format remains familiar and very functional. It is an excellent communication companion or starting block for all.
Purchase53 interesting ways to communicate your researchfrom Amazon.co.uk