Hungarian university hopes international agreement will allow it to continue teaching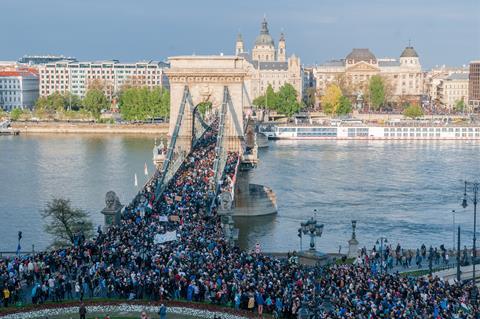 Earlier this year Hungary's Central European University (CEU) was facing closure after a change to education laws that many called a concerted effort by the country's government to silence its critics.
Now, the CEU appears to have been saved. The university says negotiations between the Hungarian government and the US State of New York have concluded, and that the two parties had reached a 'framework agreement' that will allow CEU to continue teaching at its Budapest campus.
It has also signed a memorandum of understanding with Bard College in the US to provide 'educational activities' there.
The CEU's future was thrown into uncertainty in April when the government rushed through a law that would have effectively close it down when it came into effect on 11 October. The new legislation states that foreign universities operating in Hungary must have a campus in their home country. CEU is registered in New York, but does not have a campus there. The move appeared to be a politically motivated attack on CEU's American founder George Soros, who Hungary's prime minister Viktor Orbán has accused of trying to interfere in the country's politics. When the rule change was announced, thousands of academics in Hungary took to the streets in protest, and the country's government came under international pressure, including from the US and the European commission.
The educational reforms came into force yesterday, but the CEU are hopeful that negotiations in New York have been enough to secure its future, and says it is continuing to operate 'uninterrupted'.
'The re-accreditation of the university by Hungarian higher education authorities is proceeding as normal,' the university said in a statement. 'Talks between New York State and the Hungarian government have resulted in a framework agreement that would allow the CEU to remain in Budapest, continuing to issue its American and Hungarian accredited degrees.' It added that, 'as always, CEU will comply with all Hungarian regulatory processes and requirements'.
The deal is still awaiting official approval from the Hungarian government, and needs to be in place by 1 January 2018 for the CEU to stay open in Budapest. The CEU has urged the government to sign the draft agreement and send it to parliament for ratification 'without delay' in order to meet this deadline. At the end of last month, Hungarian press reported education secretary László Palkovics as saying the government would sign such an agreement provided the CEU 'met the conditions' of the new legislation.