White House adviser and head of US's largest chemical firm, Andrew Liveris, tried to change the president's mind on Paris accord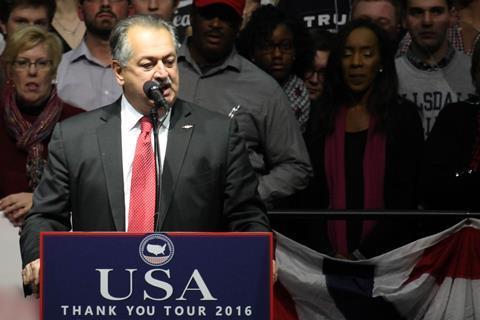 Dow Chemical chief executive Andrew Liveris, who heads President Donald Trump's manufacturing council and is a close White House adviser, fought to prevent the president from pulling the US out of the Paris climate agreement in June.
'We led a charge to really try to get the president to change his mind – it wasn't done in isolation,' Liveris stated during a plenary address at the opening of the centennial meeting of the Royal Australian Chemical Institute (RACI) on 23 July in Melbourne, Victoria. Liveris said that he and other industry leaders advised Trump that the Paris accord might not be perfect, but at least it has allowed the US to be at table during international climate discussions. 'He had a political problem,' Liveris said of Trump. 'The constituency that voted him in – frankly, the coal industry, the fossil fuel industry, the pipeline industry – was losing jobs.'
The policy and business worlds have intersected when it comes to climate change, Liveris said. 'We are very profoundly having to cope with this intractable problem of increased emissions based on fossil fuels, and businesses like ours that are big users of fossil fuels have halved our use over the last 10 years,' he told the RACI audience.
Business bonanza
Companies like Dow are driving solutions to the problem on the technology side, and the policy needs to follow, Liveris asserted. 'When the politics don't allow leadership, you have got to let the people who are affected really lead the policy environment, so that is what we've done,' he said, noting that the US's future in the Paris agreement is not dead. 'I can't speak to whether he is going to change his mind, but I can speak to the fact that it is not a finished conversation, and I am very involved in that,' Liveris said. 'I am very hopeful that we can get re-engagement on some terms that satisfy the politics of the US.'
He emphasised that the impacts of climate change are being profoundly felt in Australia. 'Essential natural resources are harder to get to, and frankly some of the ecosystems that make Australia unique are being destroyed, like the Great Barrier Reef,' added Liveris, who himself was born, raised and educated in Australia.
Nevertheless, he argued that global warming and many of the other serious modern global challenges – like the need for clean water and adequate food and energy resources to satisfy a growing population – are increasingly being recognised and embraced by industry as business opportunities. 'Over my career, I have witnessed a remarkable evolution in the way that companies like ours think about their responsibility to society, and the role that business can therefore play in solving problems and improving people's lives,' Liveris said. 'These challenges actually provide a roadmap for a completely new business model – one where solving some of the world's most pressing problems actually presents boundless business opportunities.'
Patent production at Dow is eight-fold higher than it was 10 years ago, and Liveris said this is because of these global trends. 'Many of these inventions are not just good for Dow, but they are good for the world,' he said, citing for example paint that removes toxic formaldehyde from indoor air, innovative packing technologies that eliminate waste in the food chain, as well as methods for desalinating and cleaning brackish water.
If individual companies such as Dow are seeing this sort of growth in innovative power, there could be 'a new golden era of innovation' in this century, or over the next few decades, according to Liveris.
The need to engage
He urged scientists to help inform policy by running for public office or advising government. 'This whole notion that we should sit on the outside and complain is gone,' Liveris stated. 'We all need to engage people, maybe even use the language of politics.'
In particular, he suggested that chemists and chemical engineers could make good policy advisers. 'We are trained to break problems into component parts – down to molecules, electrons and even quantum states,' he said. 'By understanding these essential elements, these hidden processes that shape our environment, we can design solutions that transform the very fabric of our world.'
One policy area that Liveris and Trump agree on is the need to reform the US educational system, especially science and technology. 'We have to fix education,' Liveris told meeting attendees, noting that only 10% of the degrees coming out of four year universities in the US are awarded in science and technology fields, and roughly 40% of those graduating from such institutions don't have jobs. He said the US's teachers in elementary schools through high schools aren't qualified to teach new scientists, pointing out that 30% of those that teach chemistry in US high schools have never even taken a chemistry course.
'This is why I'm excited about President Trump's work,' Liveris said. 'You are getting all the tweeting stuff and all of the distraction, but he has got a great team of people working on topics exactly like this,' he added. Liveris is co-chairing an effort, sponsored by Trump's daughter Ivanka, to retool the US education system. National programmes to expand apprenticeships and vocational training have been launched under this initiative, he said.

Rebecca became the US Correspondent for Chemistry World in September 2014, based out of Washington, DC, after writing for the magazine on a freelance basis since 2007.
View full profile