David Barrie
Hodder & Stoughton
2019 | 336pp | £25
ISBN 9781473656826
Buy this book from Amazon.co.uk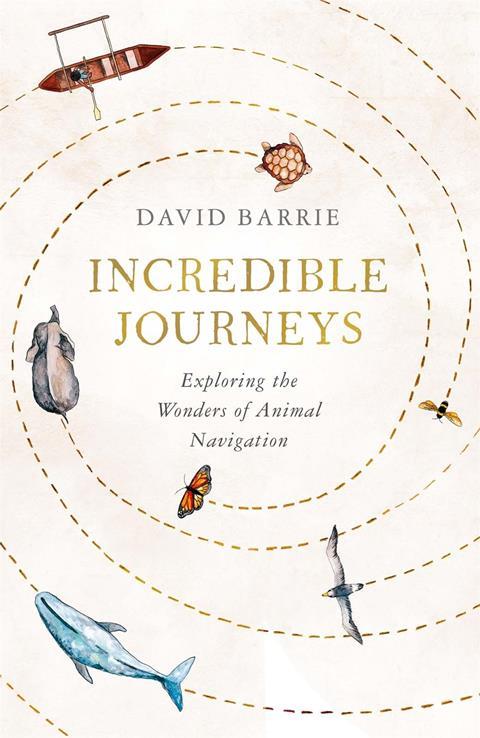 How will I ever find my way home? As a nervous nine-year-old, this conundrum seemed of the utmost importance as my father and I drove to the shops. The reply from my ever-practical father was to take note of the buildings and trees on the way there and then simply work backwards. Easy for him to say, I thought. I had never been far from home on my own, and the prospect of navigation seemed impossibly daunting. Over the years I have often marvelled at my father's sense of direction, his internal compass never fails; we laugh now and call it 'the pigeon brain'. The truth is, all animals must learn where home is, and how they do this is completely fascinating.
In Incredible Journeys, writer and navigation expert David Barrie takes us on an almost fantastical journey as he unveils a world of animal navigation with infectious glee and wonder. Barrie begins with a discussion about the earliest navigators – bacteria – and their fundamental needs of finding food and avoiding danger. This sets the tone for the rest of the book, bringing together historical reports with modern scientific understanding. We move onto natural phenomena such as the monarch butterfly's migration and the famous waggle dance of honeybees. Insects offer us the chance to study the fundamentals of navigation without distraction. It was fascinating to learn how these creatures navigate using their historically unknown powers of sight, smell, interaction with polarised sunlight and the Earth's magnetic field. A story accompanies every examination of almost-impossible navigation where Barrie highlights astonishing feats, such as the troublesome crocodiles that can navigate back to the residential areas they call home in a matter of weeks even after being relocated hundreds of miles away. And the pigeon? It turns out that this humble bird is a master of navigation, perfectly evolved to read the signals of Earth to find its way home.
Thanks to his long-standing interest in travel and navigation that stems from a passion for sailing, Barrie is an experienced guide throughout the book, easily explaining concepts and conclusions that bring together physics and biology without diverting the reader from the key messages. Incredible Journeys is a thoroughly enjoyable read.