After working in New Zealand, medicinal chemistry tempted Ashley Jarvis back to the UK. He now works in his dream field, as Yfke Hager discovers
After working in New Zealand, medicinal chemistry tempted Ashley Jarvis back to the UK. He now works in his dream field, as Yfke Hager discovers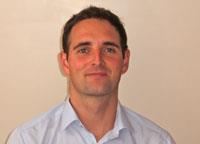 As a young postgraduate, Ashley Jarvis never suspected that meeting a New Zealand chemist on a UK conference tour would one day turn out to be his ticket to a position abroad. After a career detour that took him halfway around the globe, Jarvis has now come full circle.
His passion for medicinal chemistry was kindled at the University of Bristol where he studied chemistry with biochemistry and maths. At the end of his degree, most of his friends found jobs outside of chemistry. 'I was one of the few who stayed on for a PhD,' Jarvis says. He joined Joe Sweeney's lab, where he worked at the interface of chemistry and biology. When Sweeney took up a senior position at the University of Reading, UK, Jarvis moved with him.
Determined to find a position in synthetic organic chemistry after completing his PhD, Jarvis co-wrote a grant to work with a carbohydrate chemistry group in New Zealand. One of the group's chemists interviewed Jarvis but it didn't work out. Undaunted, Jarvis began applying for jobs with a focus on synthetic and medicinal chemistry. 'I was keen to make compounds with a use in therapy or a biological application,' Jarvis explains. In his first job at Oxford Asymmetry International (now Evotec OAI), he was pleased to work on the production of a focused compound library to identify potential anti-HIV drugs. 'For a medicinal chemist, it's something of a holy grail to work on something that eventually gets into the clinic,' Jarvis says.
Accidental traveller
An accident then steered his career in another direction. 'I seriously damaged my knee, which temporarily affected my work, and I considered other options,' Jarvis says. 'A colleague must have sensed that I had itchy feet, because he sent me an advert for a job in New Zealand.' Incredibly, it was the same carbohydrate chemistry group that Jarvis had already been in touch with. 'They remembered me and were keen to have me,' he says. 'I saw it as a chance to travel and gain new chemistry experience. It was one of the best things I ever did.'
In New Zealand, Jarvis found himself working on large-scale chemistry. 'Before, I was interested in the products, but now I was concerned with the processes, and making compounds on a larger scale.' It was also his first proper exposure to project management. While he enjoyed his two-year sojourn in New Zealand, and was certainly tempted to stay, he left in 2002.
Upon his return to Wales, Jarvis considered how to marry the experiences from his previous jobs. 'I felt in my heart that I wanted to get back into medicinal chemistry,' he says. 'My mother had recently recovered from bowel cancer and, while I wouldn't say that was a turning point, it played a role.'
Fortunately, Jarvis found that his skills and experiences were in demand. He accepted a position at the Wolfson Institute for Biomedical Research, where he also worked as a consultant for a university spin-out company, NCE Discovery. 'It was a fantastic set-up in London, with world class scientists,' he enthuses. Here, he designed and synthesised compounds for specific enzyme and receptor targets. Jarvis enjoyed the steep learning curve, but found the academic environment occasionally frustrating and realised that he preferred working in industry. 'Working in a client-facing setting as part of structured drug discovery programmes was more my line,' he says.
New responsibilities
In 2004, Jarvis took up a full-time position at the spin-out company, now based in Cambridge, UK. 'I thought long and hard about leaving London,' he says, 'but, professionally, it was a good move.' Arriving at NCE Discovery, a provider of medicinal chemistry services, Jarvis faced his largest project to date. 'I had to help assemble a team of chemists, set up processes and procedures and make sure everything was running smoothly - all the things you take for granted in a big company, I was suddenly responsible for,' he says. Over time, he started spending less time in the lab and more time managing his team.
His current job suits Jarvis down to the ground. 'Being exposed to science on a daily basis is a big bonus and something I would miss if I ever changed job,' he says. Regarding the future of his niche market, Jarvis is concerned about the amount of outsourcing to Asia. But, he says, 'UK-based service providers that specialise in medicinal chemistry are still ahead of the game compared with the Asian market.' Jarvis seems well equipped to face the challenges of a career in medicinal chemistry. 'I feel that I'm in the right job at the right time, and that's very satisfying.'
Curriculum vitae
Age
33
Work experience
2004-present
Senior medicinal chemist, NCE Discovery, Cambridge
2003-2004
Senior research fellow (medicinal chemistry), Wolfson Institute for Biomedical Research, London
2000-2003
Research chemist, Industrial Research, Lower Hutt, New Zealand
1998-2000
Senior scientist, Evotec OAI, Abingdon
Education
1994
BSc chemistry, University of Bristol
1998
PhD, University of Reading
Hobbies
Golf, badminton, mountain-biking, guitar