Cathy Brookes makes sense of pharmaceutical formulations by analysing fragments of drug degradation.Yfke Hager reports
Cathy Brookes makes sense of pharmaceutical formulations by analysing fragments of drug degradation.Yfke Hager reports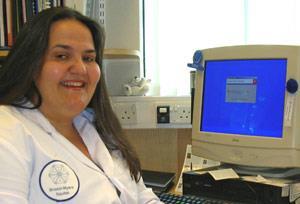 A chance encounter with a mass spectrometry expert was the turning point in Cathy Brookes' career. Initially spurred to study chemistry at university by her interest in forensic science, Brookes had landed a sandwich year at the Home Office Forensic Science Laboratory in London, UK. Career wise, it was a crucial time for Brookes; with graduation looming, she was on the lookout for an interesting opportunity. It presented itself when she attended a talk by Dai Games, an expert in mass spectrometry and chromatography at the University of Wales, Swansea. Brookes recalls being impressed by his confidence. 'He told us "if you do a PhD with me, you're guaranteed a job in industry when you finish." And he was right,' she laughs.
'Working in the forensic science lab had really sparked my interest in analytical chemistry, and doing a PhD in this field seemed like the right move,' says Brookes. Her PhD was sponsored by ICI, and she cut her scientific teeth on the mass spectrometers at ICI's site in Wilton, Teesside. 'It was a fantastic opportunity to go up there every few months and work with their equipment,' she explains.
Brookes wrote up her PhD while working at Avecia Lifescience Molecules, which gave her a taste of applied chemistry. 'I decided to apply for positions at pharmaceutical companies, as these really seemed to be taking off at the time,' she says. Her background and skills turned out to be a good match for Bristol Myers Squibb (BMS), and she was offered a job in its analytical research department.
Degrading drugs
In her current job at BMS, Brookes tests new drug formulations using a range of techniques, and develops and validates stability-indicating methods for their analysis. 'The work I do is like a big jigsaw, trying to make sense of things by examining the chemical fragments released by drugs as they degrade,' she says, 'for example, when our formulation scientists make changes to a drug's formulation, I test how this affects the drug's degradation or release rate in different conditions.'
She also evaluates new techniques and equipment in the field of analytical chemistry and writes evaluation reports with her recommendations. Brookes believes that the experience of writing up her PhD helps her when it comes to writing these reports. 'Doing a PhD teaches you to think critically and makes you understand that all your statements have to be backed up,' she says.
Sandwich students
For the past four years, Brookes has passed on her enthusiasm for analytical chemistry to students on their sandwich year at BMS. 'They arrive with no experience or practical industry skills, just like me when I arrived for my sandwich year. But by the time they leave, they can do absolutely everything, and then we don't want to let them go,' she laughs.
To help her support her students, she recently attended an RSC training course on leading and managing people. 'It was one of the best things I've done so far for my career,' she says. 'It was an excellent course; it showed me that everyone is different, and taught me how to deal with different personalities.' But what made the course most useful, in Brookes' opinion, was that all the attendees were scientists, which meant that the course could be tailored to their needs. 'The role plays made a lot more sense because we could talk about things that we work with every day, like HPLC, and not have to worry that anyone wouldn't know what it means.' With a new sandwich year student starting each year, she has plenty of opportunity to put her new management skills into practice.
Hands-on chemistry
Brookes is content in her current role, and emphasises that BMS is a good company to work for. 'The site is lovely, and it's small enough for everyone to be on first-name terms, which is great.'
When asked what the future holds, she doesn't see any major shifts in her role. She is gradually taking on more management duties; she now leads a permanent member of staff as well as a sandwich student.
But one thing is certain: Brookes can't imagine a job outside the lab. 'I really like the hands-on aspect of the job. I'm always working on several projects at the same time, and always thinking about lots of different things at once. I like the variety of my job; I would never want a routine job.'
Curriculum vitae
Age
32
Work experience
2000-present
Senior scientist, Bristol Myers Squibb Pharmaceuticals, Moreton, Wirral, UK
1999-2000
Analyst, method development, Avecia Lifescience Molecules, Billingham, UK
1993-1994
Sandwich year, Home Office Forensic Science Laboratory, London, UK

Education
1995
BSc Chemical and Analytical Science, University of Wales, Swansea, UK
1999
PhD, University of Wales, Swansea

Chartered chemist
Chartered scientist

Hobbies
World travel, competitions, football