Lego's Thomas Tarp tells Rachel Brazil how the world's largest toy company is at the forefront of chemical safety and sustainable materials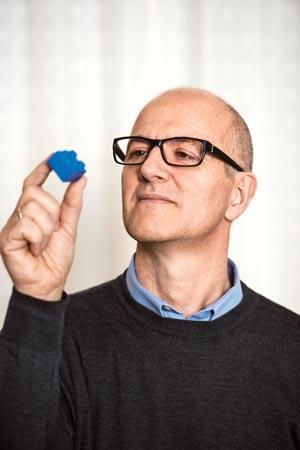 When playing with building blocks, some carefully follow the instructions, while others prefer to build their own way. The latter is how Thomas Tarp has constructed his career. His building bricks have been a variety of jobs in several different sectors, from materials manufacturing to higher education. This unique approach has led to Tarp becoming product integrity director at Lego, where he oversees the world's largest toy company's product safety and compliance team.
Another brick in the wall
Tarp gained an MSc in organic chemistry before deciding to become a high school teacher. He liked teaching but soon grew frustrated. 'I found that the preparation part and the task of going through the students' written assignments became boring,' he says. 'So after being a teacher for four years, I decided to try something else.' Tarp then became a quality control manager for a chewing gum producer, leading a team of technicians and chemists. Here he also became involved in the complexities of legal compliance. 'The company made ordinary chewing gum which is classified as food and there was also nicotine chewing gum and that is classified as pharmaceutical production, so there are totally different sets of rules. That's where my compliance career started.'
Tarp also spent some time managing the R&D laboratory at a cement company, but after five years returned to teaching to be closer to his family. 'I found that managing people in the public sector is very different from doing this in the private sector, which was both exciting and challenging,' says Tarp. In Denmark, the public sector favours consensus decision making, meaning change often takes longer. While this slowed down his career progression when he moved in to industry, Tarp says it has allowed him to 'take the best from both worlds'.

He moved to Lego in 2009, attracted by the chance to work for a company with a stated ethos of high standards, business ethics and creativity which chimed with his own beliefs. Founded in 1932, today Lego produces over 45 billion bricks per year – enough to reach the moon if stacked end to end.
Tarp is responsible for Lego's global product safety, including chemical safety. This means ensuring that raw materials and finished products are free from contaminants like heavy metals and phthalates, and that they adhere to or go beyond the strictest global safety requirements. 'So now I am back working with chemistry,' says Tarp, whose team of 30 includes PhD chemists and engineers, as well as lawyers who are experts in the varying global regulations for toy manufacture.
Click chemistry
Since 1963, Lego has been made from the tough, mouldable plastic acrylonitrile butadiene styrene (ABS). But the company uses plenty of other materials, says Tarp, including the inks used to paint figure faces and packaging materials. Lego is also the world's largest manufacturer of rubber tyres, producing over 300 million a year. Using more sustainable materials is something the company has started to focus on, and in 2015 it launched a sustainable materials centre to look for an eco-friendly alternative to ABS. 'It is an exciting challenge, that will naturally also involve our department over the coming years,' says Tarp.
With some unconventional detours, Tarp has now found a satisfying role in an exciting company. Friends love to give him suggestions, and the company itself welcomes input. In 2014, this process led to a 'Research institute' set, featuring female scientists including a chemist. It sold out within a week.
But the burning question Tarp is most often asked is why are there always leftover pieces? 'The reason is simple,' he says. Packaging is monitored by weight but some tiny elements cannot be detected, so extras are occasionally added.
'Sometimes we also add extra just to be sure that even if the element is lost in the carpet at home, or seemingly magically disappears as bricks sometimes do, the child can still get a great play experience.'
Rachel Brazil is a science writer based in London, UK