Diane Fresquez
The Feminist Press
2013 | 211pp | £12.99
ISBN 9781558618398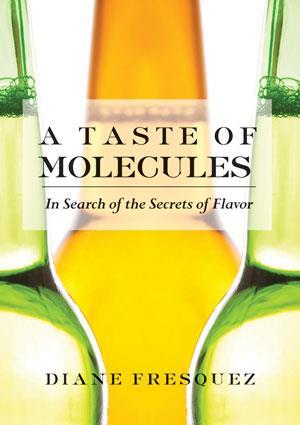 A taste of molecules is an account of Diane Fresquez's personal journey to investigate the scientific basis of food and cooking and to discover the links between taste, memory and the molecular building blocks of what we eat.
Inspired by the deep personal emotional reactions that are often triggered by specific tastes or smells, Fresquez sets off on a 12-month odyssey across Europe visiting flavour factories, breweries, bakeries and numerous university departments to tease out the essence of our experience of taste and flavour.
She samples new approaches to the ancient beverage mead, as well as modern banana-based brews, visits an apple breeding station, finds out if the food a mother eats affects her own milk, and organises a gourmet tasting dinner in a pitch-black restaurant in Brussels.
Her enquiring journalistic style – Fresquez was special correspondent for the Wall Street Journal in Europe for many years – produces an excellent scientific travelogue that may well generate as many questions in readers' minds as it manages to solve.
I found this a very engaging book that resonated with my own experiences and made me revisit a few volumes from my bookshelf, such as Harold McGee's Keys to good cooking, that delve a little deeper into the science of food and cooking.
Readers can also enjoy a literal taste of her journey: the book ends with a handful of recipes to try out and more are available on an associated website. I can thoroughly recommend the 'flower power' champagne cocktail!
In summary, this book is an easily accessible entrée for the layperson to aspects of the molecular basis of flavour and taste. It relates our daily experience of cooking and eating to chemical concepts and shows to great effect that, yes, our food and drink is full of complex – and in some cases noxious – chemicals and that this is a very good and comforting thing indeed.
Purchase A taste of molecules from Amazon.co.uk