Jeffrey Hoorfar (ed)
Woodhead Publishing
2012 | 408pp | £150 (HB)
ISBN 9780857094124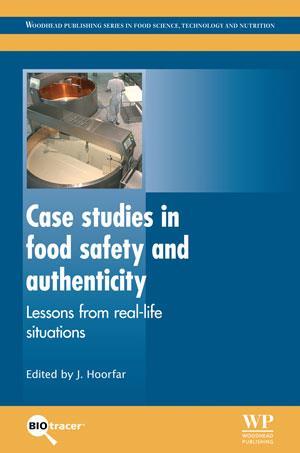 The identification and control of food contaminants relies on careful investigation using chemical and microbiological techniques and the implementation of appropriate legal and management strategies. Using a wide range of real-life examples, from all round the world, this book provides insights into recent case histories and the resolution of problems for a variety of foods and food products.
The book comprises 38 independent topics and 105 authors, which have been grouped into 6 thematic parts. One might expect that a book with such a vast array of authors would be hard to read, but the editor has most successfully imposed a coherent structure on all the contributions.
The chapters all follow the same pattern: an introduction, the significance of the case/situation, a case history, resolution and outcomes, commentary and reflections, critical questions for discussion, further reading and references. Those in teaching will find the critical questions sections invaluable aids to running stimulating tutorial classes.
The first four parts concern examples of recent outbreak investigations from around the world, tracing sources of contamination, methods of crisis management, farm level interventions and tracking contaminants before they enter the food chain.
Part five focuses on safe food production, the challenges of regulatory testing and certification, hygiene control and predictive microbiology. The book concludes in part six with detailed cases concerned with food adulteration and authenticity.
All the chapters are relevant to all chemists' interests of self-preservation, but the last section is of more direct concern in that it details some interesting examples of recent applications of analytical chemistry in the protection of the public. These include the contamination of nut-free ready meals, the adulteration of UHT milk, the adulteration of foods with melamine on an international scale, the mislabelling of cod and genetically modified organisms and the source of rice.
This unique and impressive book of wide breadth and interest is commended to chemists at large, but particularly to those involved in food production and quality control, whether working in production and control, research or teaching.
Purchase the book from Amazon.co.uk.