László Kürti and Barbara Czakó
Elsevier
2012 | iPhone app | Free / £6.99
Reviewed by Duncan Browne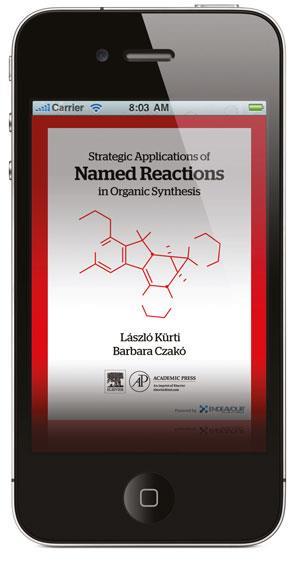 Your favourite organic synthesis textbook is now available as an iPhone app, with a catchy acronym! Of the two versions available, the free demonstration version of the app allows full access to 25 selected reactions – the user can then choose to upgrade the app to the full paid version, gaining access to the entire database of 250 named reactions.
The target consumer base for this app is most likely to be similar to those that already own the book (which typically costs around £60). Presumably, therefore, a key consideration when designing this program must have been how to make the app feel fresh, portable and convenient while still remaining affordable. Moreover, a simple carbon copy of the book would be likely to disappoint owners. In my opinion the designers have found a good balance between these issues.
While the book describes in rich detail the history of the individual reactions, their mechanisms and discussions of the synthetic applications, the app contains none of this written material. However, the excellent use of colour in all of the schemes (as with the book) is generally sufficient to allow the user to follow exactly what is going on, resulting in minimal loss of understanding in the absence of the written text. Without the words the app feels much more user-friendly and convenient to use – I suspect it would be rather cumbersome had they been included. Another minor cutback is witnessed in the number of references, but for me this is offset by the inclusion of DOI hyperlinks to the majority of referenced articles. Where the app comes in to its own is with the introduction of a searchable version of the functional group conversion table, including filters for yield, catalysts and solvents and the reaction categories database.
Navigation through the app is straightforward. From the home menu you can choose the name of interest by scrolling through a list – you are then presented with an overview of the specific named reaction that is displayed in the same beautifully clear style of the original book. Scrolling through four tabs at the top of the display allows you to look through the overview, mechanism, a selection of applications (which can be swiped through one at a time) and a list of references. You can zoom in on the reaction schemes by three finger double-tapping the screen, rather than pinching.
Overall, I think the app is useful, handy and addictive. I, personally, am the happy owner of both versions.
You can download the Sanros app via iTunes