Cathy Cobb, Monty Fetterolf and Harold Goldwhite
Prometheus Books
2014 | 340pp | £18.46
ISBN 9781616149154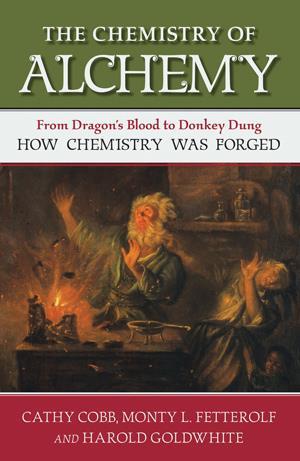 Once upon a time, three jolly chemists were having tea and discussing their next project. All highly experienced teachers and experimental practitioners, each had written several books. They were so enthusiastic about chemistry, that they wanted even more people share their delights. So they had a brainwave: 'Let's learn about the alchemists and their experiments, and then write a book, in order that others can have fun with alchemical experiments. In that way, we shall spread even more good news about our splendid science.' A fine goal, but no one would doubt it was a tall order.
Nevertheless, our three authors, hugely inspired, got cracking on their new project. They did a lot of reading, consulting a broad selection of high quality tracts by traditional (James Partington, Lynn Thorndike) and modern (William Newman, Lawrence Principe) authors. They conducted dozens of experiments, drank even more tea, and then got down to writing. The chemistry of alchemy is the fruit of their many labours.
It is divided into four parts, containing 20 interesting and entertaining chapters, roughly in chronological order. Each chapter is followed by suggested experiments, accompanied by detailed safety procedures, which illustrate some of the principles covered. A summary is provided of all chemicals and apparatus that will be needed.
For readers outside US, a little extra research into terminology may be required. The aim of every experiment is clearly outlined, as indeed are the results that our merry 'alchemists' achieved. Here is a typical fragment from the section Pearls: 'Have we just performed two alchemical demonstrations that don't require waiting? Don't worry. All is well. The next demonstration takes hours…. When the dry calcium acetate is misted with water, it gains a shiny pearl-like appearance. [Oswald] Croll believed that these 'pearls' were cures for sixteen different diseases.'
But there is also a serious message to be found in this book: alchemists were experimentalists who worked to achieve laudable goals within a theoretical framework that was very different from today's. And the results of this program gave birth to the modern discipline of chemistry. Understandably, there is some creative science in this unusual book. Overall verdict: great tea party, great book, highly recommended.
PurchaseThe chemistry of alchemyfrom Amazon.co.uk