Jim Brooks
Grosvenor House
2013 | 725pp | £14.99
ISBN 9781781486504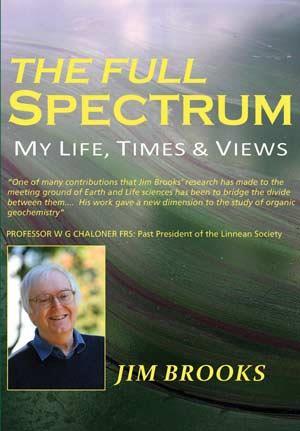 Though neither a Royal Society fellow nor a former chief executive, Jim Brooks would probably admit to a successful and colourful career as a petroleum geochemist. The title of his hefty autobiography suggests a spectroscopist's story but it refers to the spread of his University of Bradford, UK, degrees: an inaugural DipTech/BTech sandwich course in industrial chemistry, an MSc on wool wax, a PhD and DSc.
Born in Saltaire, UK, Brooks' academic experience was delayed by a lack of a French qualification, perhaps because of playing soccer and cricket. Indeed a lifetime's engagement with these sports included playing for the university, watching Yorkshire cricket and supporting Ipswich United. However, eventually an organic chemistry PhD on the molecular structure of sporopollenin, a component of plant spore cell walls, led to petroleum geochemistry investigations and an interest in geology.
In 1969 Brooks joined the geochemistry group at BP in Sunbury, UK; Alaskan oil had been tapped and BP was exploring the North Sea, soon to yield the Forties Field. Brooks was later tempted to join a small Leeds chemical company in 1975; a disastrous move. After a Bradford spell, researching and teaching on a then-novel science and society degree course, Brooks joined the British National Oil Corporation in 1977 (Britoil from 1985) as head of geochemistry in Glasgow. Exploration involved more travel but in 1986, with the collapse in oil prices, the geology group became redundant, including Brooks, not yet 48. His subsequent career as a consultant facilitated visits to countries in most continents.
A Christian from 1966, Brooks also describes his work for the Baptist Church and becoming president of the Baptist Union of Scotland. He dismisses creationists, experiencing no need to compromise either his science or his faith.
Any autobiography is centred on the writer, and this is no exception. Ambitiously, Brooks attempts to combine his story, including family and church life, with everyday matters and news items (displaying remarkable recall and recording). The full spectrum will appeal to chemists with links to Yorkshire, oil exploration and non-Russell group universities; for the general reader it illustrates that an energetic personable research scientist making worldwide contacts can exercise other interests.
This well-written book has a good collection of personal and scientific photographs but lacks acknowledgements, index and time line. A critical editor would have generated a better, shorter book with less reference to VIP lounges, class and politics; but this might have eliminated the circumstantial details that make it a relaxed and enjoyable read.
Purchase The full spectrum: my life, times and views from Amazon.co.uk