US bill that boosts science funding passes on third attempt after Democrats employ unusual procedural tactic
The Democrats have scored big in a political fight underway in the US Congress over legislation to expand government funding for basic research and science programmes.
On 28 May, the House of Representatives approved a bill that aims to keep the US National Science Foundation (NSF), Department of Energy (DOE) Office of Science, and National Institute of Standards and Technology (NIST) on a 10-year budget-doubling trajectory to 2016.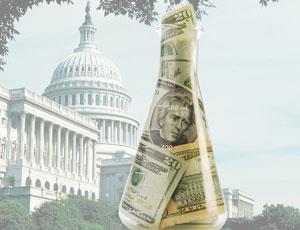 The legislation was pulled from consideration 13 May afterRepublicans offered a last minute motion that cut funding for basic research programmes, reduced the five-year authorisation to three years, and prohibited any funds authorised in the bill from being used to pay salaries of federal employees disciplined for viewing pornography. It was rejected again in the House on 19 May, after failing to gain the two-thirds votes required for approval.
Democrats finally got the measure passed, despite Republican concerns about its multi-billion dollar price tag, by using a rare procedural tactic that divided up the Republican motion so that each of its components was voted on separately.
The bill ultimately approved restored the original authorisation period of five years, and included what has come to be known as the 'porn provision'.
Supporters of the legislation, including the American Chemical Society, say it will help foster innovation and ensure US leadership in emerging and growing fields like nanotechnology.
But Republicans remain unenthusiastic. 'While I am glad we were finally able to reauthorise many of the important research and education programmes in this bill, the bill that passed today spends too much money, authorises duplicative programmes, and shifts focus away from the bill's original intent,' said Rep. Ralph Hall from Texas, the top Republican on the House Science and Technology Committee.
Republicans cite a Congressional Budget Office estimate that the bill, which still must pass the Senate before President Obama can sign it into law, would cost $86 billion.
Rebecca Trager, US correspondent for Research Europe