Under Obama's new healthcare reform, drug companies will pay more than $80 billion for rules that fit the bill
President Obama has signed the biggest US healthcare reform since the 1960s, and although it is largely seen as a victory for the pharmaceutical industry, some analysts are characterising it as a 'double-edged sword'.
The legislation, signed into law amid much fanfare on 23 March, is 'not perfect' but represents a step in the right direction by helping to ensure that all Americans have access to high-quality and affordable healthcare, according to the Pharmaceutical Research and Manufacturers of America (PhRMA) - a lobby group representing the country's leading pharmaceutical companies.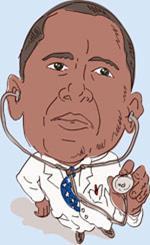 The reform bill did not have an easy ride into the law books, and has been sent back to the House of Representatives under a process known as budget reconciliation after two points were found to violate Senate procedure.
The new law is expected to expand health insurance coverage to more than 30 million uninsured Americans, but estimates indicate that more than 20 million will still go without. It also offers no public health insurance option.The drug industry will contribute more than $80 billion (?54 billion) over the next decade to help fund the legislation, in part by offering rebates and making brand-name drugs more affordable for senior citizens who hit the Medicare Part D coverage gap. While it is commonly known as the 'doughnut hole', it is far from a tasty proposition for seniors who have to pay the full cost of prescription drugs themselves after their treatment has reached a certain price limit, the cover then starts again once the 'catastrophic coverage limit' is reached.
'Our commitment to help pay for healthcare reform will require all of our companies to make some difficult choices moving forward - on top of already losing more than 150,000 jobs since 2007 because of the recession and other economic factors,' PhRMA warns in a statement.
Clouds on the horizon
Tijana Ignjatovic, a healthcare analyst with the global market analysis company Datamonitor, sees some clouds on the horizon. In the short-term, he says the discounts and rebates will likely combine with raised industry fees to create a market dip. He notes that this couldn't come at a worse time for the pharmaceutical industry, which is facing patent expiries in 2011 that are set to wipe tens of billions of dollars from company sales.
But from 2015 onwards, those negative effects will likely be offset by an increase in the number of insured people resulting in an upsurge in drug consumption.
Furthermore, the health reform legislation contains a provision that creates a pathway to enable the US Food and Drug Administration (FDA) to approve biosimilars - generic versions of biologic drugs. Unlike generic small molecule drugs, the complexity of biologic drugs makes it questionable whether a generic company could produce an identical biologic product.
The new healthcare law grants drug makers a 12 year exclusivity period on biologics before they face competition from generic alternatives - a significant win for the industry, since the administration was in favour of a seven year exclusivity period.
The new law also includes a therapeutic tax credit that will benefit small, research-intensive biotechnology companies suffering from tight credit markets. It will help offset a portion of the resources spent on therapeutic development activities, including hiring scientists and conducting clinical studies.
Generic disappointment
But the generic side of the drug industry is disappointed. 'Real reform could have expanded access to affordable medicine to patients in need,' says Kathleen Jaeger, president of the Generic Pharmaceutical Association in the US. While the FDA has been given the flexibility to create a workable biogenerics approval pathway, she said the brand market exclusivity protections in this bill - which supplement the patent protection of biologics - will 'keep affordable biogeneric medicines from patients for decades to come'.
The broader pharmaceutical industry is also concerned about the expansive powers the healthcare reform measure bestows upon the non-elected Independent Payment Advisory Board. That panel's presidentially-appointed members will recommend specific spending reductions that can become law unless there is intervention from Congress.
But overall, the pharmaceutical industry avoided many of the pitfalls that it was lobbying against. The new law does not allow direct government intervention on drug pricing for Medicare, importation of lower priced drugs from abroad, or give government authority to limit drug price increases.
The final legislation also omits language that would have ended lucrative 'pay-for-delay' settlements in which a brand-originator pays a generic company to dealy bringing a rival product containing the same active ingredient to market.
Analysts suggest that the pharmaceutical industry, whose stocks are trading at a historically low level, is on an upswing now that the uncertainty surrounding healthcare reform has ended.
'It's certainly a victory for the pharmaceutical and innovator biotechnology companies, and it is without a doubt a relief now that our long national nightmare is over,' Ira Loss, a senior health policy analyst at Washington Analysis, tells Chemistry World.
The real implications of the new healthcare reform may not be felt for some time. At the bill's signing ceremony, Obama estimated that it will take four years to fully implement many of its reforms.
Rebecca Trager, US correspondent for Research Europe