Obama calls on FDA and Justice Department to clamp down on pharmaceutical industry after drug shortages triple
President Obama has issued an executive order to try to tackle the intensifying problem of drug shortages in the US. The number of reported prescription drug shortages in US almost tripled between 2005 and 2010 - rocketing from 61 to 178. Meanwhile, the University of Utah's Drug Information Service paints an even grimmer scenario, reporting 232 drug shortages so far this year, up from 211 last year.
To avert drug shortages and prevent price gouging, the president directed the US Food and Drug Administration (FDA) to require drug manufacturers to provide adequate advance notice of manufacturing discontinuations that could lead to shortages of critical drugs. The legislation would require drug makers to notify the FDA six months before any discontinuations to enable the agency to seek replacement supplies from other manufacturers.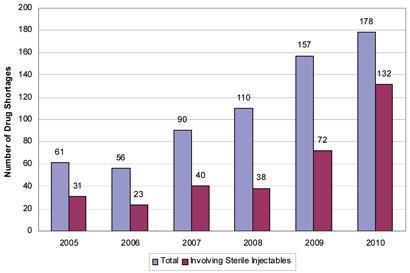 According to the White House, 80 per cent of the 127 studied drug shortages in 2010 and 2011 involved sterile injection medications, including cancer drugs, antibiotics and electrolyte or nutrition therapies.
Of the reported shortages, more than 40 per cent were down to manufacturing problems, 15 per cent were the result of manufacturing or shipping delays and 10 per cent were due to a scarcity of active pharmaceutical ingredients, according to the White House.
Currently, the FDA can only compel pharmaceutical companies to disclose the discontinuation of a critical drug when it is available through a single manufacturer.
The president's directive also orders the agency to further expedite its regulatory reviews - including reviews of new drug suppliers and manufacturing sites.
Justice sought
Obama also asks the FDA and the Justice Department to work together to examine whether any secondary drug wholesalers or other market participants have responded to potential drug shortages by illegally hoarding medications or raising prices. Representative Elijah Cummings, the top Democrat on the House of Representatives' Oversight and Government Reform Committee, reported last month that a leukaemia drug normally sold for $12 per vial was being marked up 80-fold.
A recent report by Premier Healthcare Alliance - a group of US hospitals and healthcare sites that aims to improve patient care and cut costs - found that the so-called 'grey market' vendors on the unofficial supply channel are hiking drug prices by an average of 650 per cent.
Terry Seaton, a professor of pharmacy practice and associate division director for research at the St Louis College of Medicine, US, agrees that the drug shortage problem is 'extensive'. In some cases, he says hospitals, pharmacies and health care providers are only able to meet the medication needs of patients by 'paying exorbitant prices' to a 'middle man' on the grey market.
But Seaton says it is likely that neither Obama's executive order nor the legislation he endorses will be sufficient to address the problem. 'It will likely require a multi-pronged approach with cooperation from pharmaceutical manufacturers, health systems, professional organisations and regulatory agencies,' he tells Chemistry World.
Big pharma's reservations
However, Ali McBride, a clinical oncology pharmacist at Barnes-Jewish Hospital in St Louis, US, says that the president's directive will provide the FDA with information that will enable the agency to prevent and manage future shortages for specific drugs.
Meanwhile, the Pharmaceutical Research and Manufacturers of America commended the administration for addressing the drug shortage problem. However, the trade group's president and chief executive, John Castellani, cautioned that the implementation of the president's executive order 'must effectively strike a balance' between addressing these "rare" problems in the manufacturing process while promoting a 'healthy market environment'.
PhRMA says it isn't concerned that Obama's order will adversely affect the market, but instead wants to prevent extreme actions that would, for example, create an onerous reporting structure and overburden the FDA.
Nevertheless, many experts agree that drug stockpiles are also not the answer as shortages often develop instantaneously and cannot be predicted. 'All it takes in some cases is a recall of an ingredient or drug product to essentially reduce the availability of a drug to zero,' Seaton says.
This is a global problem, even though other countries have different methods of supplying drugs. For example, the UK has a central drug repository which distributes medicines equally and thereby prevents hoarding. 'However, they still have drug shortages and this is an issue that is happening across the world,' McBride says. 'With the increase in population we may think of drugs as more of a commodity rather than a provision of healthcare,' he warns.
Rebecca Trager, US correspondent for Research Europe