US Senate's proposal to cut National Science Foundation's budget by 2.4 per cent prompts concern at universities
US Senators plan to cut the National Science Foundation's (NSF) budget by 2.4 per cent to $6.7 billion (?4.2 billion) in 2012, and this $162 million reduction has set alarm bells ringing throughout the research community. The Senate's figure compares unfavourably to President Obama's request back in February to increase the NSF's funding by 13 per cent to $7.8 billion, and it is significantly below the flat-funding that the House of Representatives proposed for the agency.
In recent years, it is the Republican-controlled House that has cut the budgets of science agencies like NSF. 'The Senate has been more generous, so it is disappointing to see them come in under the House number for the NSF,' says Bill Andresen, who runs federal affairs for the University of Pennsylvania, US.
Many observers note that Nasa received about $1 billion more in the Senate proposal than in the House proposal. They suggest that Senate appropriators raided the NSF's budget to bolster Nasa's because the chair and ranking member of the Senate appropriations subcommittee that funds both agencies have vested interests in the space agency.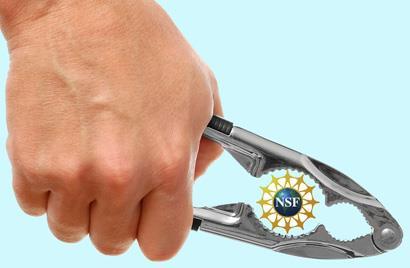 Andresen says that the NSF's face a funding cut because the panel's chairwoman, Democrat Barbara Mikulski, and its ranking member, Republican Kay Bailey Hutchison, 'have major NASA facilities in their states and wanted to make sure that they receive funding'.
Specifically, the Senate wants to slash the NSF's 'research and related activities' account by nearly $121 million. 'If that number sticks, it'll make it even more competitive to get funding through NSF,' says Sam Rankin, chairman of the Coalition for National Science Funding. The Senate also proposes to cut the agency's 'education and human resources' account by $32 million.
A long way off
Although fiscal year 2012 begins in October, the budget is a long way from being finalised. The full House and Senate must pass their respective appropriations bills and then reach a compromise before sending appropriations to Obama for his signature. But there is consensus that the recent developments on Capitol Hill indicates that the agency's budget will end up either flat or down slightly.
NSF's chemistry division currently funds less than 25 per cent of single investigator grant proposals it receives, which is the lowest level in at least a decade, notes Marc Hillmyer, a chemistry researcher and professor at the University of Minnesota, US. 'NSF will have a harder time funding grants in what is already a hyper-competitive environment,' he tells Chemistry World. 'It will inevitably negatively impact the way that we do business, the number of graduate students we can recruit, the number of projects we can start, and also the number of new initiatives that we can pursue.'
Nevertheless, the optimists point out that NSF is doing well considering the current economic environment. 'The fact that NSF is looking at less than a 5 per cent decrease bodes pretty well,' says the American Association for the Advancement of Science's R&D policy director, Patrick Clemins. 'It's a lot better than what's facing other agencies,' he adds. 'There's pretty good consensus that the NSF shouldn't get a large cut.'
But the fact remains that the NSF and its fellow science agencies are losing purchasing power each year due to inflation. 'Things do not look promising for 2012,' says University of California (UC) official Chris Carter. He notes that the NSF is UC's second largest source of federal funding for science.
'We are trying to find ways to continue to advocate for what science does for the nation and the economy - it is always possible that an angel will swoop in to save us, but that is not something that we can count on,' Carter says. 'We are hoping to get Congress to refocus on science as being an economic driver for the nation, and not just a cost.'
Rebecca Trager, US correspondent for Research Europe