Independent review finds problems with data and research methods
The US Centers for Disease Control and Prevention (CDC) is re-evaluating pollution data on the Great Lakes of eastern North America after criticism from an independent panel. A 5 September analysis from the Institute of Medicine (IoM) found that the CDC's report on the region has serious shortcomings which could hamper efforts to determine whether people living near the lakes face increased health risks.
The Agency for Toxic Substances and Disease Registry (ATSDR) - a sister agency of the CDC - initiated work on the report in 2001, at the request of the International Joint Commission - a bi-national agency that manages bodies of water on the US-Canada border.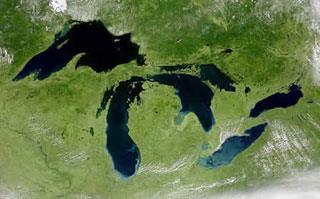 Questions about the report first surfaced after a 2007 draft version was leaked, prompting CDC to delay the document's planned release in July 2007 and request an independent review by IoM. That draft, which was since taken offline, linked toxic chemical exposure to higher rates of infant mortality, cancer and other health problems in certain counties in eight states along the Great Lakes. Potentially, nine million people who live in those areas could be affected.
IoM, which is part of the US National Academy of Sciences, found weaknesses in that version of the report, and another subsequent draft released in April 2008.
'We found problems in how each draft was developed, which data were used, and what conclusions the authors drew,' said Robert Wallace, an epidemiologist with the University of Iowa who chaired the IoM panel.
Wallace's committee determined that the authors lumped pollution and health data together in the 2007 draft, despite differences in where and when the information was gathered. This practice could erroneously suggest links between contamination and health problems, IoM cautions.
Meanwhile, the IoM says the 2008 draft merely offers a summary of selected data on chemical releases and contamination without substantially furthering knowledge about Great Lakes pollution. Additional problems include the use of certain contaminant data as indicators of exposure, and the lack of details about other possible sources of contaminants or exposure.
CDC does not dispute the panel's conclusions and says the agency will use the IoM findings to help inform its final report on the Great Lakes.
Rebecca Trager, US correspondent for Research Day USA