US FDA employees sue agency, saying they were subjected to secret surveillance for expressing safety concerns about medical devices
The US Food and Drug Administration (FDA) is being sued by its own scientists and doctors who allege they were spied on and persecuted by the agency for expressing safety concerns about the approval of medical devices. This legal action has prompted an investigation by a key lawmaker in the Senate.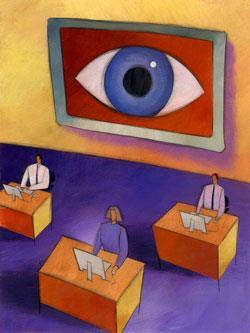 Iowa Republican Senator Charles Grassley - a powerful member of the judiciary committee that has jurisdiction over areas like civil liberties and constitutional law - has asked FDA commissioner Margaret Hamburg to provide details about who authorised the monitoring of employees and why some of the plaintiffs are no longer employed by the agency. Hamburg has until 17 February to supply her answers.
In the lawsuit filed on 25 January, six whistleblowers claim that the FDA secretly spied on them for two years. They say that the agency began its campaign of electronic snooping after the agency learned that they had written a letter to the president elect, Barack Obama, and his transition team in early 2009 detailing misconduct in approving unsafe medical devices. In that letter, the plaintiffs called the FDA 'fundamentally broken', and said its scientific review process for medical devices has been 'corrupted and distorted' by managers.
Soon after, the agency installed or activated spyware on the whistleblowers' work computers and also monitored their private emails, according to court documents. In addition, evidence suggests that the FDA took screen shots of the employees' computers and also intercepted their emails to and from staff members on key House and Senate oversight committees.
These actions appear to have continued even after the Office of Inspector General (OIG) at the FDA's parent agency - the Department of Health and Human Services (HHS) - denied the agency's request to take criminal or administrative action against the individuals. In a May 2010 letter to the FDA, the OIG concluded that the whistleblowers' communications were legally protected.
Chilling effects
The plaintiffs, who were all heavily involved in the FDA's safety review process, are seeking an injunction to stop the agency from pursuing what they say is an illegal spying campaign. Two of these whistleblowers still work at FDA and say that they face continued harassment, two were fired and another two did not get their contracts renewed, according to Stephen Kohn, the lead attorney for the plaintiffs.
'If you can target someone simply because they raise a legal, health or safety concern, that will have a chilling effect on any FDA employee alerting the public or Congress about matters of life and death,' Kohn tells Chemistry World. 'There is a lot of pressure on these scientists to approve the devices.'
According to Kohn, the whistleblowers raised major concerns about 20 medical devices that involve, among other things, ultrasound and CT scan technology. Specifically, these reviewers said some of the devices could expose patients to radiation at levels up to 800 times that of a chest x-ray and they found that others couldn't appropriately detect cancers. Nevertheless, Kohn says the FDA approved 19 out of 20 of these devices that had been flagged.
'Whistleblowers point out fraud, waste and abuse when no one else will, and while they do so, while also risking their professional careers, they are often treated like skunks at a picnic,' Grassley wrote in a 31 January letter to Hamburg, asserting that retaliation against whistleblowers 'should never be tolerated'.
Grassley said that certain employees, including members of the Public Health Service Commissioned Corps within HHS, are not covered under the US Whistleblower Protection Act, which leaves them vulnerable to retaliation. He says that this is a one of several loopholes in current law that should to be closed.
The FDA said it can't comment on personnel issues or any matters subject to ongoing litigation.
Rebecca Trager