A science career against all odds. A life of survival, study, teaching and travel in the 20th century
A science career against all odds. A life of survival, study, teaching and travel in the 20th century
Bernhard Wunderlich
Heidelberg, Germany: Springer 2010 | 526pp | ?59.00 (HB)
ISBN 9783642111952
Reviewed by Lucy Mitton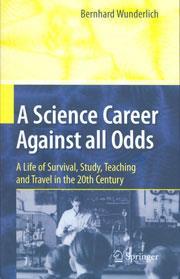 I found reading this autobiography of the polymer chemist Bernhard Wunderlich an extremely humbling experience. As a UK babyboomer who was a child in the 1950s and a teenager in the 1960s, I found myself counting my blessings, as I read about someone born in Brandenburg, Germany, in 1931.
After a childhood during the rise of the Nazi regime and early teens during the second world war, Wunderlich found himself in the Soviet-controlled zone of Germany. In 1949 he started his higher education at the Humboldt University in East Berlin - the premier university of the newly founded East Germany, but was always at odds with the regime and his unwillingness to study Russian or Marxism-Leninism led to his being considered an 'undesirable' student. Eventually he crossed over to the West as a refugee in 1953, and after a year at the Goethe University in Frankfurt he emigrated to the US where he completed his studies at Northwestern and Cornell Universities. In 1965 he won a tenured professorship at Rensselaer Polytechnic Institute, specialising in the study of solid state polymers. Following retirement in 1988 he started a new 20-year career as professor and distinguished scientist at the University of Tennessee and Oak Ridge National Laboratory.
Wunderlich's long and distinguished career in research and teaching involved him in extensive travel in the US and around the world, including periodic return visits to Germany. This book reflects his great love of travel, including a deep interest in European and Mediterranean antiquities.
Unfortunately, although this book is well worth reading for the wonderful chemist it portrays, I was disappointed by the presentation. The layout is dreadful - with too many small photographs pasted untidily in amongst text which is too small. The photographs themselves are very interesting and evocative of their time, but it would been better to have printed a smaller more selective collection and printed them larger. The contents list, the index, and the page numbering are confusing.
However, despite the limitations in presentation, I found the book enthralling and would recommend it to young chemists of today. When we are tempted to complain, it is salutary to read about someone who, despite early hurdles and difficulties, had the determination to succeed and ended up living a very full life, supported by a wide network of friends and family.