Science and controversy: A biography of Sir Norman Lockyer, founder editor of Nature
Science and controversy: A biography of Sir Norman Lockyer, founder editor of Nature
A J Meadows
London, UK: Macmillan 2008 | 368pp | ?25.99 (HB) ISBN 9780230220201
Reviewed by John Uttin
Norman Lockyer was an eminent Victorian scientist who was the founder editor of Nature. From 1857 he worked as a civil servant at the War Office, and in 1870 he was appointed the secretary of the Duke of Devonshire's Royal Commission on Scientific Instruction and the Advancement of Science.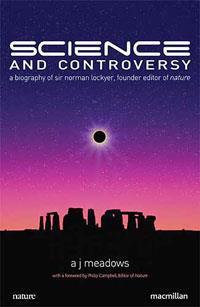 Astronomy and astrophysics were his first loves, starting as an amateur and progressing to become director of the solar physics observatory in Kensington, London. He made many contributions to the study of the sun using spectroscopy, culminating in his discovery (jointly with Pierre Jansen) of the element helium. Like all solar astronomers and astrophysicists Lockyer's research was closely linked to solar eclipses.
After his retirement in 1911, he set up an observatory at Sidmouth in Devon to carry on his personal studies; after his death it was named the Norman Lockyer Observatory. He is also remembered in the Norman Lockyer Chair in astrophysics at the University of Exeter.
Lockyer had the idea for a regular journal to report the latest advances in all branches of science and to facilitate the transmission of ideas between scientific disciplines. In Macmillan he found support to publish Nature in 1869, with himself as its editor for half a century. He started the tradition, carried on under subsequent editors, by which Nature was prepared to be controversial and opinion-forming, while at the same time publishing the best, cutting-edge science.
This book, now republished after 30 years, is well researched and well written throughout, giving an excellent glimpse into the life of an eminent Victorian scientist who was very interested in the cross-fertilisation of ideas between scientists in different disciplines, the transmission of science to the public through education and publication, and the advancement of women in science.
It is interesting to note that there have only been seven editors of Nature since it was launched in 1869 - Norman Lockyer, Richard Gregory, Arthur Gale, 'Jack' Brimble, John Maddox, David Davies and Philip Campbell.
Maddox, who sadly died on 12 April this year, took over Nature when it was at a very low ebb and transformed it into one of the world's leading journals covering the complete sweep of the sciences. He also started its expansion into the whole family of Nature journals which we know today.