Fischer-Tropsch refining
Arno de Klerk
Wiley-VCH
2011 | 642pp | ?125
ISBN 9783527326051
Reviewed by Malcolm Green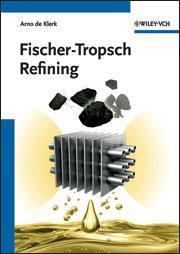 This book is a timely, substantial and scholarly work.
It is timely because the Fischer-Tropsch (FT) reaction provides the best method for converting renewable biomass materials and methanol into higher hydrocarbon fuels.
The book is divided into six parts, which altogether contain 28 sections. Each section ends with a long list of primary literature reference sources (ca 1500-2000). The introduction to part I is titled Fischer-Tropsch facilities at a glance and includes discussion of economic factors. It also deals with Refining and refineries at a glance, and this includes a review of the different generations and developments of refineries. Other parts cover the production of FT syncrudes, industrial facilities, synthetic transportation fuels, refining technologies and refinery design. There is a comprehensive index.
The reaction mechanisms proposed for FT processes are carefully discussed and it is concluded that they have only been partially revealed.
The presentations are clearly written and there are many well-organised and effectively labelled diagrams and tables. There is considerable detail provided so this book will serve as a reference manual as well as an excellent guide to the subject as a whole.
I would strongly recommend this book to all who wish to become informed about the FT industry and its technology. It may well be the case that FT processes will play a dominant role in tomorrow's energy sources.
RSC members can purchase this book direct from the publishers for a 30% discount on the RRP. See the member benefits link on this page.