Nature's chemicals: the natural products that shaped our world
Nature's chemicals: the natural products that shaped our world
Richard Firn
Oxford, UK: Oxford University Press 2009 | 272pp | ?35.00 (HB)
ISBN 9780199566839
Reviewed by Jim Hanson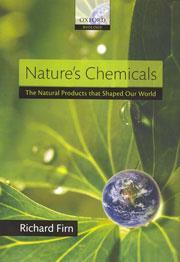 This interesting book examines the impact of natural products on human affairs and the environment.
In the first chapter the author argues that the fragmentation of the subject into the separate studies of primary and secondary metabolites has obscured fundamental ideas concerning the diversity of natural products.
After a chapter on the major biosynthetic pathways, there is a consideration of why organisms make particular metabolites.
A major theme of the book is the author's screening hypothesis which develops the idea that since specific high potency biological activity is a relatively rare property of natural products, the biosynthesis of many compounds is required in order to generate enough biologically active 'hits' for an organism to flourish.
Whilst readers may not agree with this hypothesis as providing a completely unifying view of the structural diversity of natural products, neverthelesss it is presented in a thought-provoking way. The role of natural products in the environment, in the pharmaceutical industry and in mediating interactions between organisms together with the genetic modification of biosynthetic pathways, are then discussed.
Organic chemists expecting a detailed factual discussion of the structures of natural products might be disappointed.
However, the book can be recommended to those who wish to consider, in a holistic way, the origins of the diversity of natural products and the impact that these compounds have had on the world in which we live.