Beryllium: environmental analysis and monitoring
Beryllium: environmental analysis and monitoring
Michael Brisson and Amy Ekechukwu (Eds)
Cambridge UK: RSC Publishing 2009 | 200pp | ?80.00(HB)
ISBN 9781847559036
Reviewed by Andrew Hursthouse
Beryllium does not often feature highly in environmental monitoring and assessment. Its presence in the Earth's crust at a few parts per million places it low down the abundance ranking.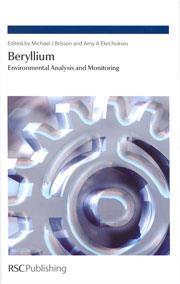 With restricted occurrence in mineable deposits, beryllium and its compounds only find application in specialist technology applications and as trace components in alloys. So wide dispersal in the environment is not a particularly significant hazard compared to other substances. The question is why publish this book?
We are presented with compelling rationale in the serious questions surrounding the carcinogenicity of the element and its compounds and health risks in occupationally exposed workers.
The response from the editors and authors of the nine chapters is to carefully catalogue and review the exposure under occupational conditions and extend it to consider, although not detail, wider environmental problems. The material covered includes careful and detailed description of sampling for primarily occupational monitoring purposes - personal air samplers, surface contamination wipes and bulk samples.
The sample preparation and analysis description considers routine techniques as well as more specialist methods and the volume concludes with a thorough review of data quality reporting and future developments.
The volume is well written by practitioners in the field of occupational safety and health. Its detail, whilst focused on beryllium, would provide guidance on monitoring many other substances.

It should be relevant to those involved in the field as well as environmental and occupational health researchers, and serve as an excellent case study in advanced undergraduate programmes.