Carbon nanotube science: synthesis, properties and applications
Carbon nanotube science: synthesis, properties and applications
Peter J F Harris
Cambridge, UK: Cambridge University Press 2009 | 314pp | ?45.00 (HB)
ISBN 9780521828956
Reviewed by Dirk Guldi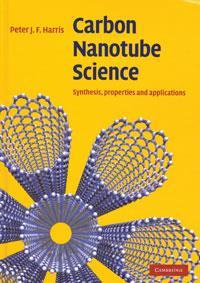 Single-wall carbon nanotubes - long, thin carbon 'wires' just a nanometer or so across (ie about 10,000 times thinner than a human hair), but up to many thousands of times longer - possess exciting mechanical, optical and electrical properties that would seem to make them ideal nanoscale materials.
As other useful properties have been discovered, particularly strength, interest has grown in potential applications. They could be used, for example, in nanometre-sized electronics or to strengthen polymer materials for use in air and spacecrafts. But despite these great promises, scientists have encountered great problems in actually working with carbon nanotubes.
You will hardly find a more comprehensive reference on the science of carbon nanotubes. Written by Peter Harris, 12 individual chapters incorporate the most recent technological advances and research developments on an exceptionally timely topic.
This new book is an appropriate addition to its predecessor Carbon nanotubes and related structures. Carbon nanotube science is expected to generate an immediate impact in the interdisciplinary field of physics, chemistry, and engineering of carbon nanotubes. Detailed treatment covers the scientific basis ranging from the fundamentals in the synthesis and properties of carbon nanotubes to practical applications.
Overall, the chapters should prove very useful to both students and researchers in the different areas. All chapters are solid, comprehensive discussions of physical properties of this carbon form. Each chapter begins with an excellent introduction to the topic at hand and then turns to more details for the expert in the area.
Personally, I would recommend this book to chemical physicists and physical chemists, and to those broadly interested in nanoscience.