Functional molecules from natural sources
Functional molecules from natural sources
Stephen Wrigley et al (eds)
Cambridge, UK: RSC Publishing 010 | 233pp | ?109.99 (HB)
ISBN 9781847552594
Reviewed by Jim Hanson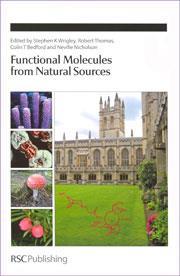 This interesting book is based on lectures that were given at a conference organised by the RSC Biotechnology Group and held at Magdalen College, Oxford, in July 2009. The 17 chapters are grouped under four main headings: modern and emerging perspectives in natural product utilisation; improved strategies for natural product exploitation; functional molecules and their enhancement; and biosynthesis and genetics. The book concludes with a summary of other lectures at the conference.
Natural products have provided the basis of bioactive compounds throughout the long history of the pharmaceutical industry. This book demonstrates their continuing importance in this context.
Chapters are devoted to different polyketides, terpenoids and alkaloids with emphasis on antitumour and antimicrobial activity.
The opening chapter is an authoritative review of the current status of natural products and their relatives, as antitumour agents compounds of microbial, marine and plant origin.
Other chapters of particular interest were those on marine microorganisms as sources of novel bioactive compounds, the recent development of derivatives of pleuromutilin as antibiotics and on imino sugars as therapeutic agents.
Several chapters are concerned with various aspects of polyketide biosynthesis and its genetics and the ways in which an understanding of these topics can be harnessed to produce novel biologically active compounds.
This book can be recommended to those who are seeking a modern review of the exploitation of natural products and their biosynthesis in the context of developing novel biologically active compounds. The editors are to be congratulated on bringing together this valuable and readable record of developments at the interface of chemical biology and biotechnology.