Inorganic rings and polymers of the p-block elements. From fundamentals to applications
Inorganic rings and polymers of the p-block elements. From fundamentals to applications
T Chivers and I Manners
Cambridge, UK: RSC Publishing 2009 | 348 pp | ?49.95 (HB)
ISBN 9781847559067
Reviewed by Paul Kelly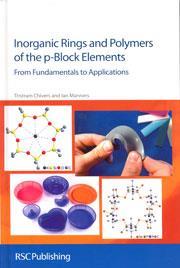 The 172 year gap between Leibig's first preparation of the phosphazene (NPCl2)3and Klapotke's recent isolation of the astonishing tetraaza derivative P3N21, during which the polymerised phosphazenes proved to be uniquely versatile in terms of desirable properties, constitutes a microcosm of the grander scheme of p-block ring and polymer chemistry.
The phosphazenes are but one of the myriad of different types of species bearing elements from groups 13-16 that are painstakingly covered in this new book - a work which conveniently and accessibly plugs a gaping hole in textbook coverage.
While some excellent recent efforts have looked at individual species in detail, it's many a moon now since one volume took such a comprehensive swipe at this broad swath of the periodic table.
Importantly, some of the 12 chapters are devoted to specific general topics which pertain to all the systems in question, such as synthesis, characterisation and electronic structure. In contrast, the final four chapters home in specifically on the groups in question.
At one level, therefore, this is a compendium of raw information - the presence of nigh on a thousand references sees to that. But it also seeks, uniquely, to link structural diversity to important, usable, properties for many of the species. Plus its concise and readable format (aided by simple, but effective, illustrations, schemes and structural diagrams) means it is impossible to browse through this book without stumbling upon a system new to you, one which catches your attention or which makes you wonder 'OK, so then what if.'.
In the end, that is possibly the true measure of the work and may be the lasting legacy of what is a veritable vade mecum of chemical diversity. Put simply, synthetic chemists - of whatever hue - will find this superbly executed project both informative and invaluable.