50 Years at Oxford by Graham Richards
50 Years at Oxford by Graham Richards
Graham Richards
AuthorHouse
2011 | 96pp I ?7.72 (PB)
ISBN 9781456778613
Reviewed by Derry Jones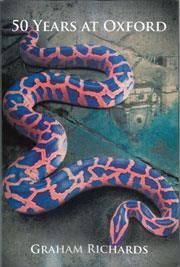 Not every chemist with Graham Richards's research record would list his failures and title a chapter Disappointments. These range from the absence of an athletics blue (his sport, the high jump, is suggested as a metaphor for life) and being insufficiently persuasive about a substantial alteration to the undergraduate course, to non-election to the headship of an Oxbridge college or to the Royal Society ('a self-electing club'). He also regrets not becoming director of the Royal Institution or president of the RSC and he criticises the non-transparent election process for the Nobel prize.
Richards campaigned effectively for college co-residence and, becoming in 1997 the chairman of the University of Oxford chemistry department, he raised ?64 million for, and oversaw the construction of, a massive new building. Probably his biggest changes to chemistry at Oxford were in computing and in re-establishing the links with industry, introduced by Perkin generations earlier.
After chairing the University and Industry Committee in 1978, Richards's enterprise helped found spin-out companies, one of which reached a market capitalisation of ?450 million. A molecular graphics pioneer, he applied grid computing to pharmaceutical and anthrax research through a joint screensaver project.
Richards contrasts 1950s and 1960s Oxford - when philosophers ruled and he acquired a permanent academic post without advertisement or interview - with now; science and medicine may dominate, but dons have to contend with much bureaucracy. He laments that admission tutors have little latitude to recognise potential in candidates with aptitudes other than examination ability.
The title is apt since, apart from summers in California, Oxford has remained Richards's base. I recommend this compact, enjoyable account despite the lack of references. One looks forward to a fuller biography.